Written by: Jeremy
Ok, so I realize we are not exactly going to get travel blog of the year by going two months between posts, but then again, that really was never the goal. Regardless, we did want to wrap things up and post an update to fill in the details of the end of our first year's snowbird journey. In hindsight, the term snowbird, for us, has been somewhat of an oxymoron. More on that later. For now, we have made it back to our summer home in Colorado and we are currently resting up, saving some dough and enjoying a place that is really hard to beat this time of year.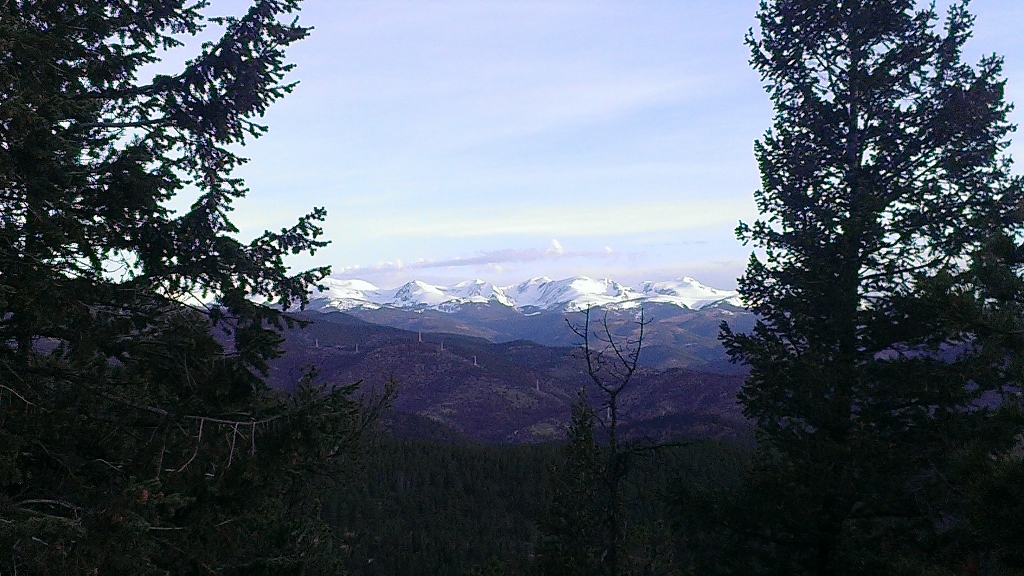 Juggling work with travel (and blogging) was always a challenge but as the trip wound down we came to a few more important realizations. Sure, we could stay at only discount parks and spend more time finding free campsites and eating PB&J's but for us, immersing ourselves in the culture and cuisine of all the cities we visit is very much a part of the appeal of this lifestyle. It is kind of a Catch 22 for us. The more we work, the more money we have to do things we want but it also greatly affects the amount of time we have to do them. So for now, we both have buried ourselves back into our work so that we can save up for next years trip and have a little something to sock away for retirement.
RV TIP #10: Selling your house and most of your stuff does free up quite a bit of disposable income. Traveling across the country staying short stays in RV and State parks, driving a 3/4 ton diesel, playing golf all winter, and eating out regularly devours most of that disposable income in short order.
I also have to admit that I have become somewhat disenchanted with this travel blog. I have repeatedly said that I don't want this blog to be just another boring informational travel blog that rates parks and lists likes and dislikes from various locations like a log book. Well, after reading our last several blogs I could see that what I didn't want is, unfortunately, exactly what this blog has become. I realize that there is a place for this type of blog and that it can be interested for some to read, but it just is not personally inspiring to write anymore.
To be honest, after some of the initial excitement and challenge, we found that living on the road in the US was not as different of a life as we might have originally thought. We still work most days, walk dogs, cook meals, go out to eat, clean the house, get together with friends, and do all the other normal life things, we just now do it in a bunch of different locations.
Enough of me blathering on and back to the boring details of our not so boring life. After leaving Bottomless Lakes State Park in Roswell, we headed north towards Robin's birth city of Albuquerque, New Mexico. The drive was brutal with winds pushing us to the limit and maybe even beyond what was advisable in our rig. Regardless, a little weary, we made it to the the foothills and a charming but also non-descript private campground in Cedar Crest, New Mexico called the Turquoise Trail Campground. This was a decent mountain park, but we found ourselves a week or two ahead the ideal camping season for this area and once again snow was part of our snowbirding experience.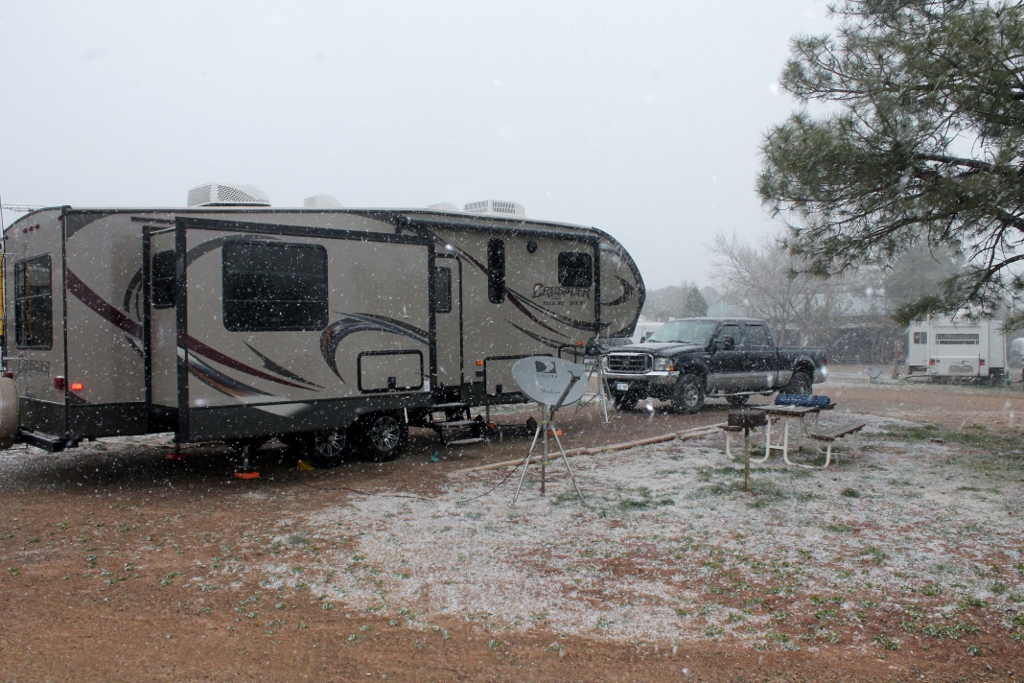 We stayed for a week and did some hiking in the nearby Sandia Mountains and also visited a great and recommended local pub/restaurant called the Lazy Lizard where we enjoyed some well done jam band covers and local brew.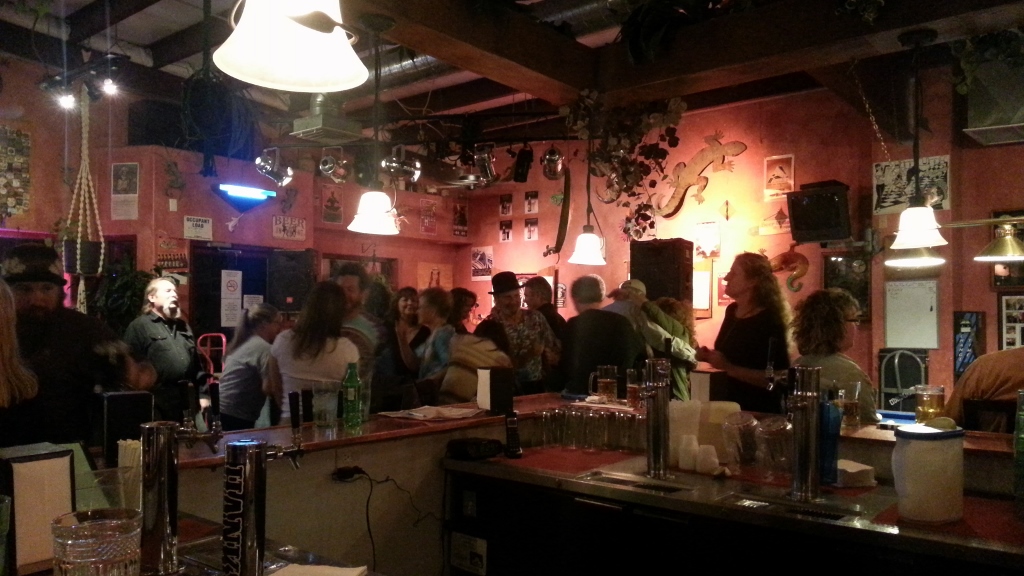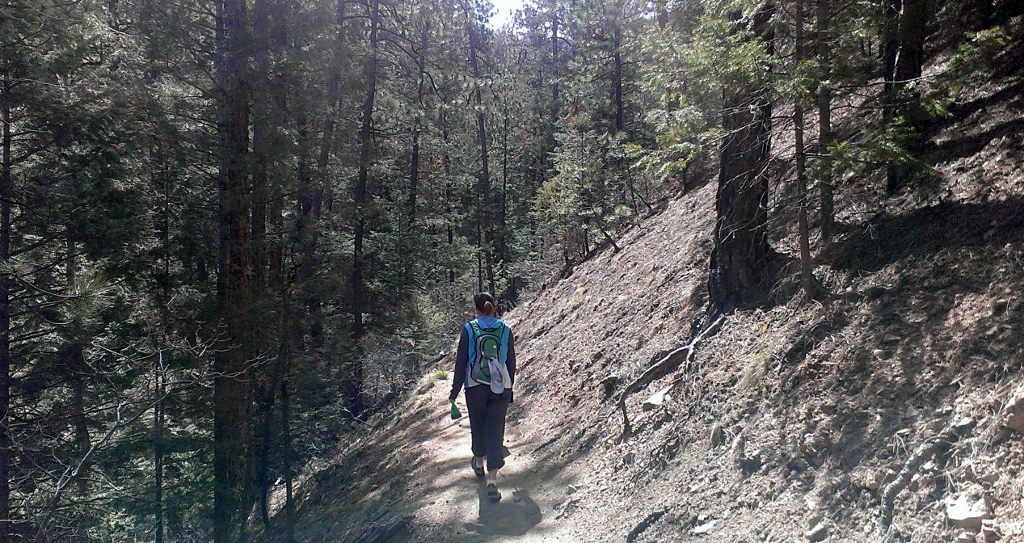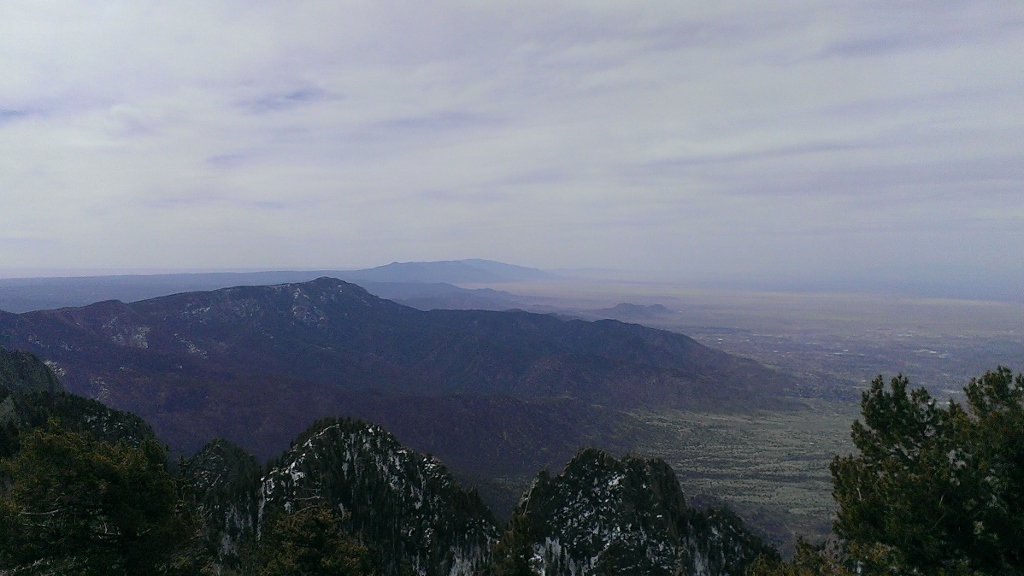 After a week here, we made the short trip down the hill towards Albuquerque where we set up close to downtown at the Albuquerque Central KOA. Upon arriving, we had fairly low expectations considering our experience in other urban KOA's but in hind site, this place was certainly above average. The views were great from the park, and there were several dog off leash areas that make bathroom trips much easier for the boys. Overall we enjoyed our stay and would visit again.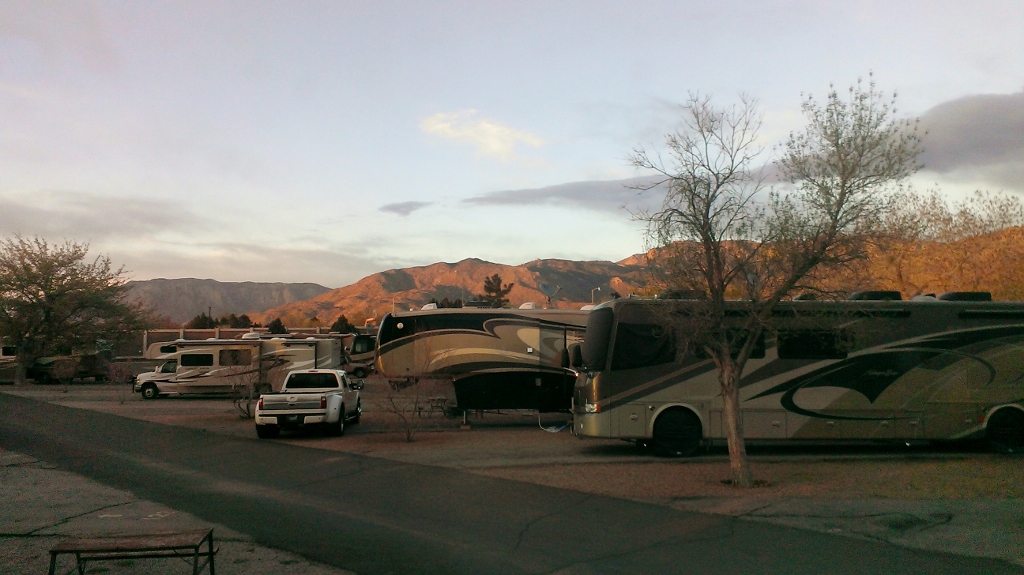 Like other urban RV parks and KOA's we have visited, the immediate area around the park was not the best. With that said this location was safe and it did give us the perfect launching pad to explore the city, play golf, and to begin our eating out Olympics.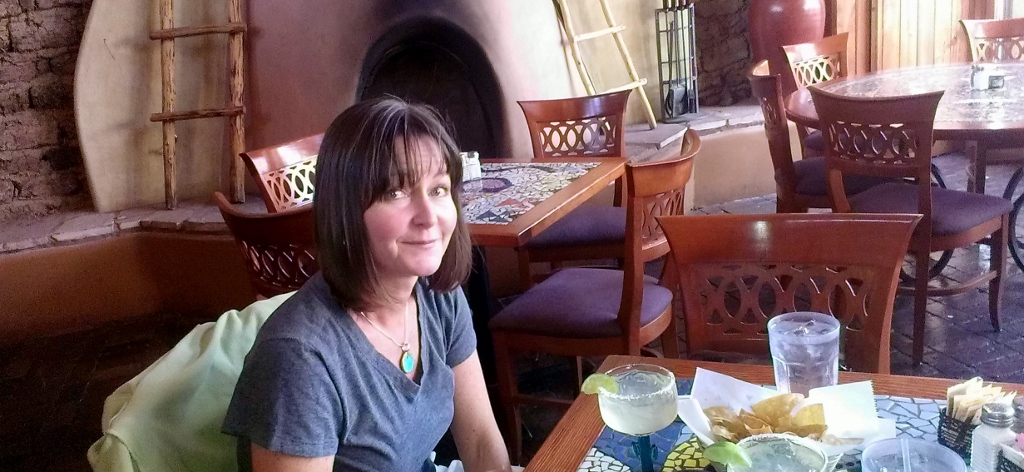 As we have previously mentioned, the US gulf coast was not exactly the greatest place for the type of cuisine we prefer. Fried food and domestic bottles of pilsners have there place in the world but getting back to Albuquerque was like putting a couple of kids in a candy shop. Craft Pale Ale's, gourmet vegetarian fare, and especially green chilies could be found everywhere and we made a point to eat out pretty much every chance we could.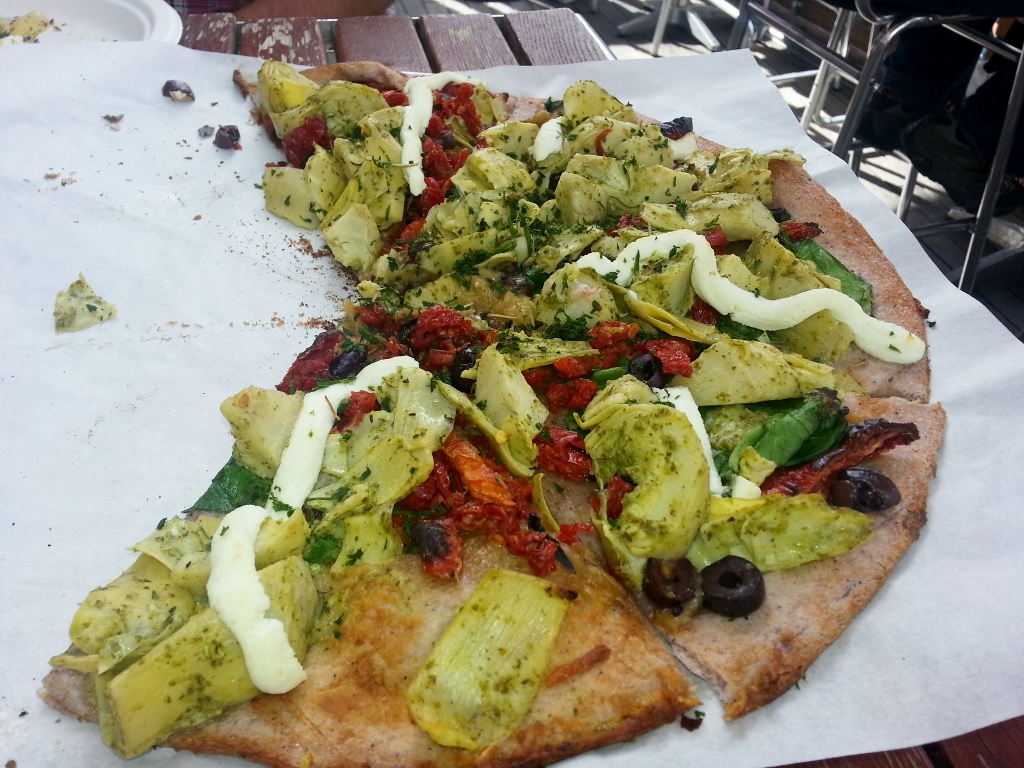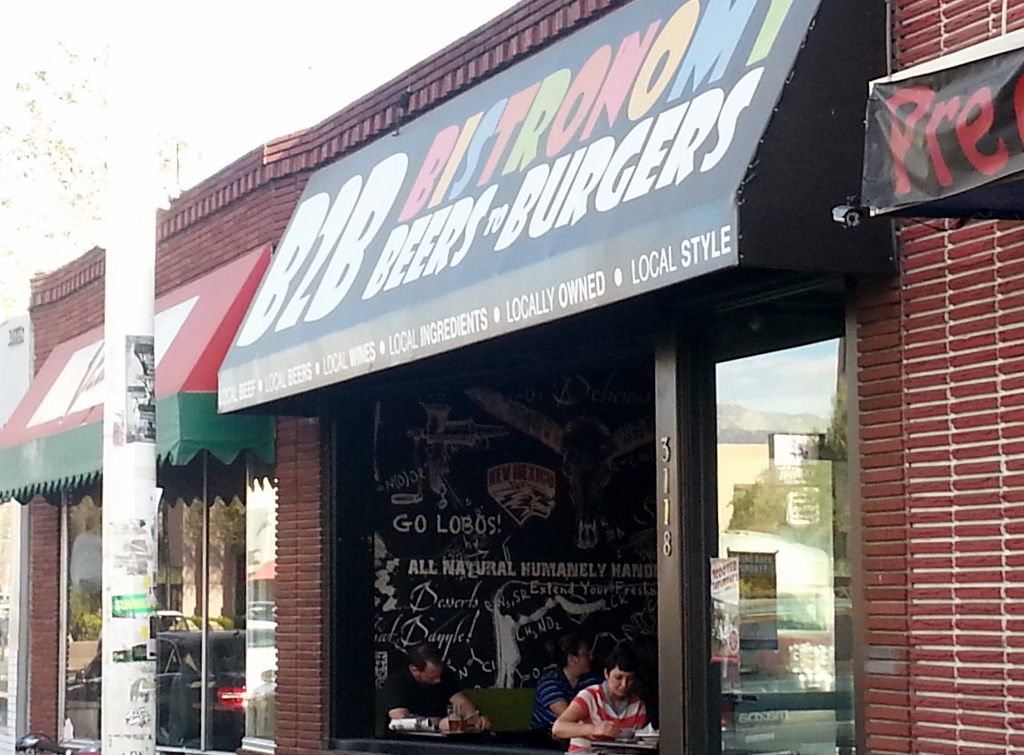 Public golf courses in the Albuquerque area were also spectacular as was the weather this time of year. Although we already knew this city fairly well, Albuquerque New Mexico, solidified its standing as a favorite place to live for a little while now, and maybe longer in the future. It is not a fancy town, or and especially "nice" place, but for whatever reason, Robin and I feel particularly at home here.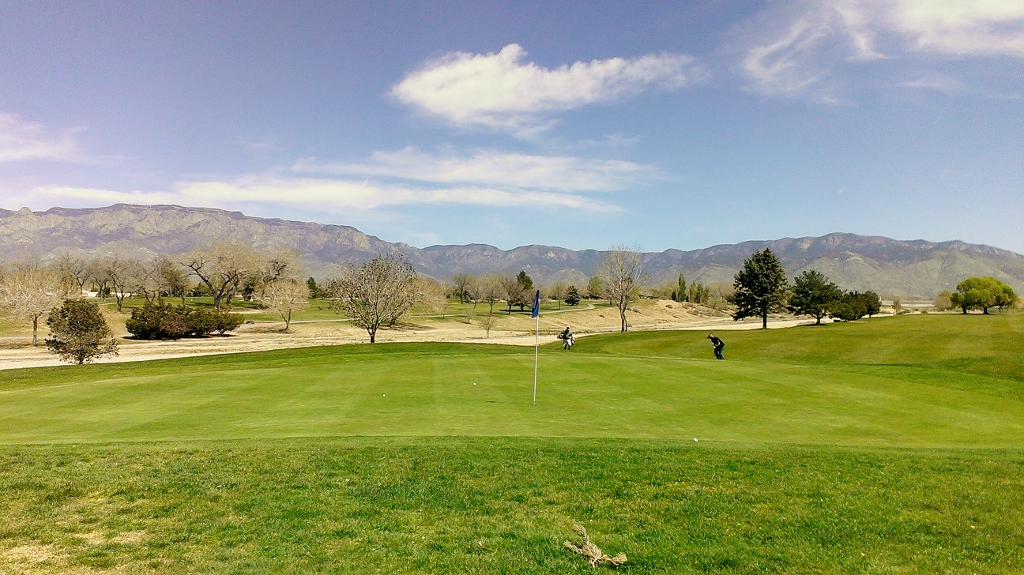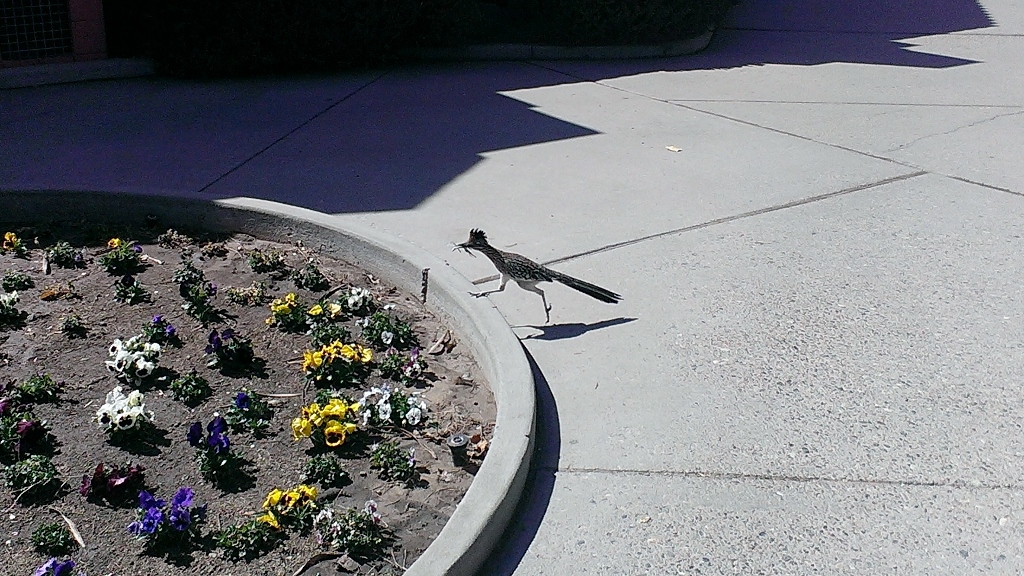 After a week in Albuquerque, we moved on North toward CO and into Santa Fe, New Mexico. This is another city that is not new to us and we continued our green chili and craft beer assault to the tune of about ten extra pounds around the waist and a credit card bill that made me choke on my green chili breakfast burrito.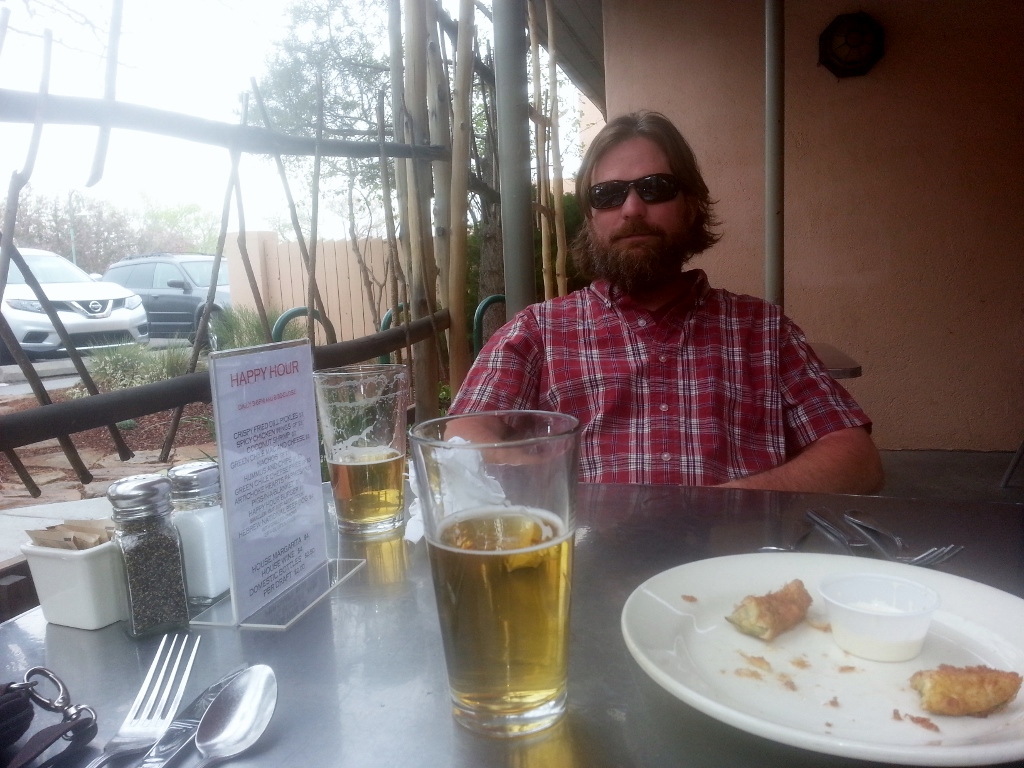 We stayed in a sort of Santa Fe suburb at the Los Suenos RV park. The park was conveniently located right by the bus stop to downtown and there were also trails and a dried up arroyo that provided endless opportunities for hiking and for getting desert stickers stuck in your paws. We were busy with work and stayed here for two weeks.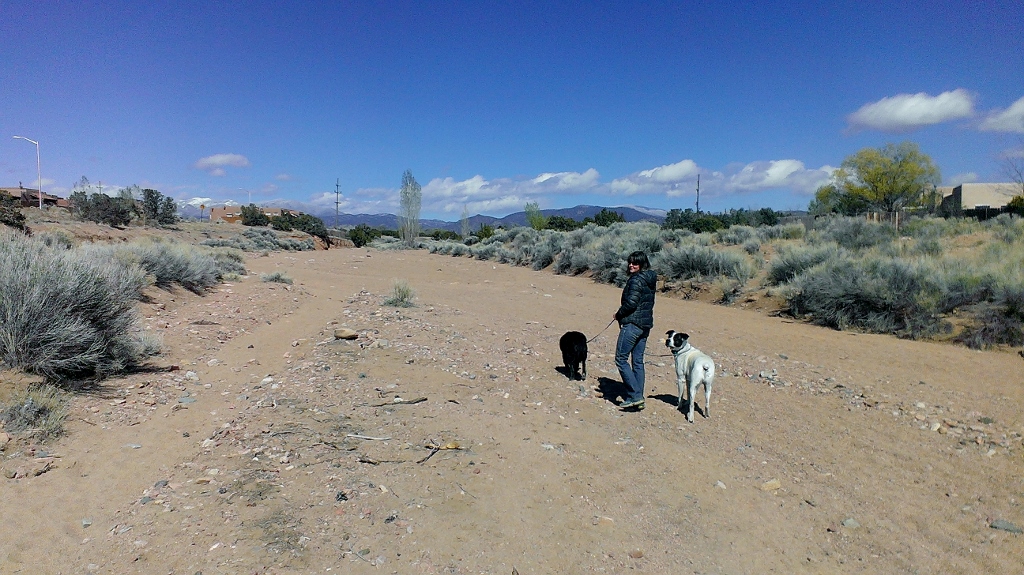 The public municipal golf course in Santa Fe, like Albuquerque, was outstanding and reasonably priced. I am sure these courses are different mid summer but this time of year it was perfect although at times a bit windy.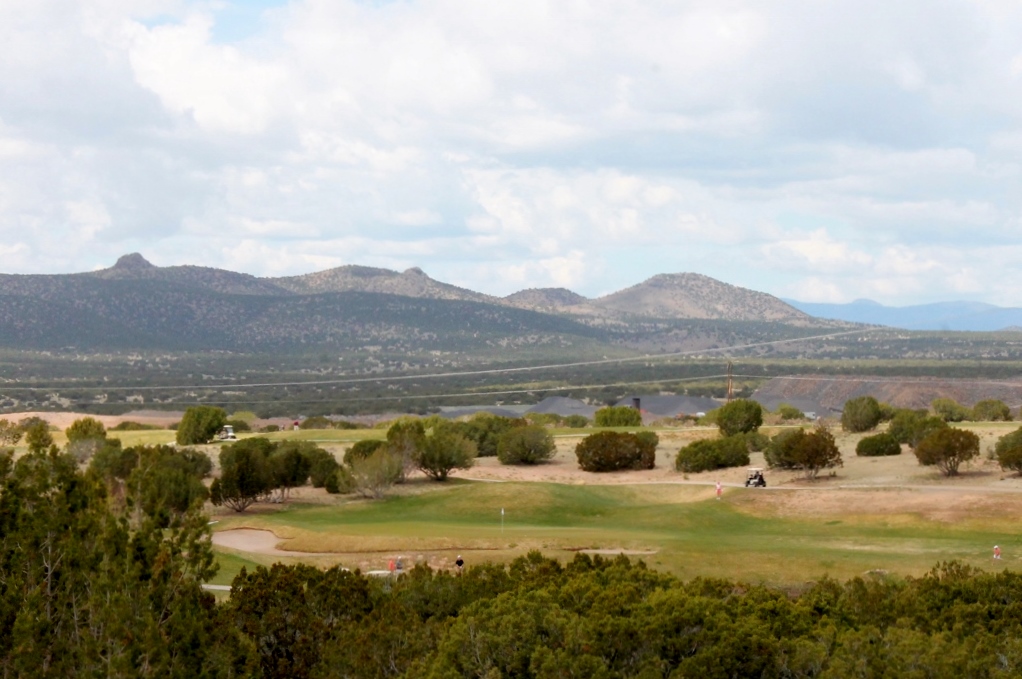 We had originally planned to spend a couple of more weeks either exploring New Mexico or more of Southern Colorado. However, we were admittedly a little home sick and ready to get back to Colorado and specifically the Denver area. We made our way north from Santa Fe into Colorado all the way to Chatfield State Park just South of Denver. We did have a quick overnight South of Colorado Springs, but it was pretty much a straight shot up I-25 for us.
I just realized that after going two full months between blogs I have just written a blog that is way too long for anyone to actually read. So, I think I will stop here and complete our tale in a few days. Stay tuned and maybe I will be able to come up with something that is actually worth writing and reading.