We had been considering what to do next and we had two options.  One, stay in the Midwest near family for the summer and Robin could fly to Boston for work for 2 weeks in August.  Two, venture onward and upward to explore New England for the summer and stay until after Robin's workshops end.   The weather in Ohio in June helped us make our decision and from Alum Creek we headed out northwest toward Cleveland. We did a couple of nights in a Cleveland suburb and did a great barbeque with some friends in the area for the 4th.  That would be the last of city life for us for a while.
From there we started the week-long trek to Maine and decided to avoid the easy-in and out concrete RV parks and take advantage of the time-off and camp our way to Maine.    It sounds strange for two people who live in a travel trailer to say, but we don't camp enough.  You know… campfires, hiking, getting into ponds, outdoor cooking, no hookups or connectivity, that kind of camping.   So we thought we should make our trip more like that.
First was a nice little state park in New York on Lake Erie. We did a couple of nights here and explored the park and pseudo beach. Even managed to get Hank to smile for a few rare picture.  The ground was too wet for a decent campfire, but we did cook outside one night and only had electric at our site.  Still not quite camping, but we were at least in a state park and not in an RV park!
Our next spot was a rain saturated dump of a state park near Syracuse New York, but at least we had a lakeside spot.  We were at our first no-hook up site, ready for a cookout and campfire and it rained all night.   No camping on this night.  We were quite happy to be inside of our warm, dry camper and watch some TV.  We did get to put our new inverter and batteries to the test so we would be ready when the real camping started.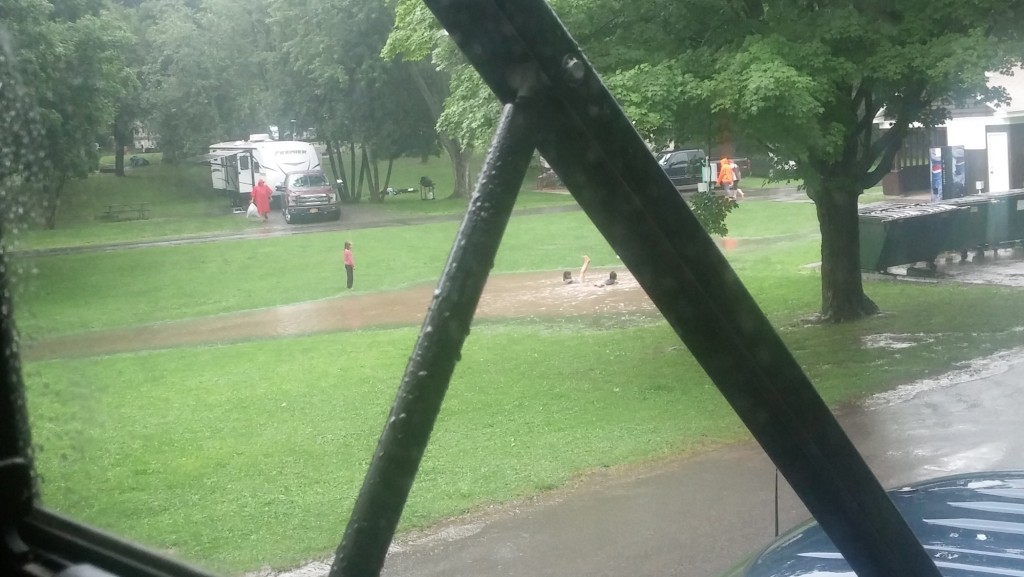 From there we were off to spend the weekend in the mountains in Vermont. We picked Woodford State Park and we scored the last available spot that could accommodate our rig.  Finally, a no hookup site in the woods where the weather was perfect and we got to do some real camping!  We were about the biggest rig in the park which was mostly tent campers and smaller trailers but we did fit, just barely.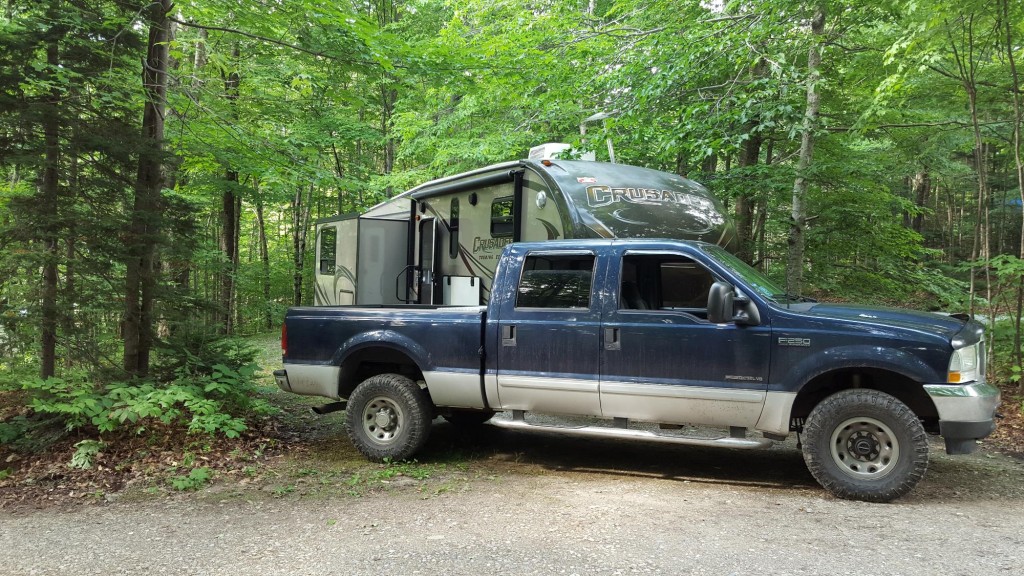 The park and lake were beautiful although there were a ton of kids and families in for the weekend so not quite as secluded as we may have wanted. We rented kayaks and took a 2 hour tour of the lake and did some nice easy but fun hiking with the dogs around the lake.
And what camping trip is complete without grilled Mahi fish tacos and a nice fire? For the first time in quite a while the weather was perfect and we began to feel alive again.  Ready to get back to the traveling.
Next stop was a quick overnight in New Hampshire and we were up early the next day for another long driving day before we finally made it to our destination in Maine. Although exhausted, we had a lobster roll before we were fully set up at our new park. More to come from Maine, we will be here for a month.