Although we had read plenty of good reviews to go along with the typical negative, we were still hesitant about visiting New York City via RV. Well we did decide to check in to the electric/water parking lot of a park known as the Liberty Harbor RV Park in Jersey City.
The park was a typical tight, parking lot style, urban layout like a few others we have been to but probably even tighter considering the number of big rigs that were piled in with us. If you are back-in challenged you might want to skip this one.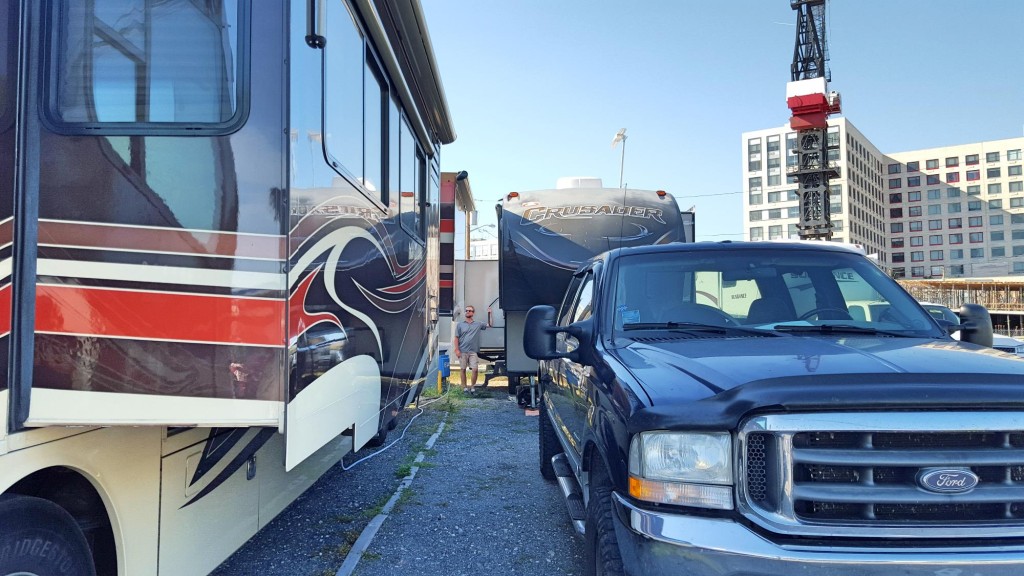 Regardless of the proximity to our neighbors in the park, we have only positive things to say about the Liberty Harbor RV park and we would visit there again for sure. We loved the access it gave us to visit the cities. We had read about the easy access to New York but we were also very pleasantly surprised about how much we enjoyed Jersey City right by the park. Having big dogs that we knew we would be leaving for extended periods, we were concerned about having good places to do our morning and afternoon dog walks. But between the city and nearby marina we soon found that this was actually a great dog walking venue for us.
Jersey city also surprised us with some tasty places to eat and drink and even a huge waterside bar and restaurant right at the Liberty Harbor Marina and RV park. This was a welcome discovery for a couple of whole-food based pescatarians that love to eat out and that spent the last two months with limited access to actual composed vegetarian dishes in rural and suburban New England.
We quickly figured out that the most enjoyable way to visit Manhattan was via the $7/per person ferry boat with open air deck that launched a short walk from the RV park.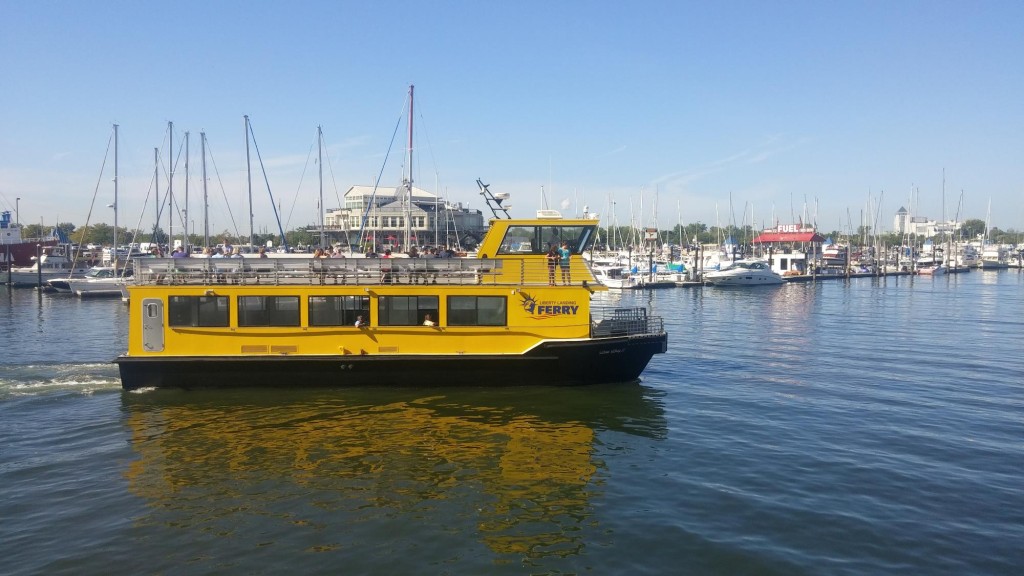 Our weather for the weekend was near perfect and we took advantage. The ferry dropped us off right in Battery Park near the financial district and the One World Trade Center.
We also quickly learned the other transportation option and how to use the subway systems connecting Jersey City to all the places we wanted to see in Manhattan. In case you haven't noticed, we are not really big sight-seers, but we did explore countless miles of the city on foot over three days and visited all of the big city tourist places like Times Square and Central Park.
A highlight of our trip was the High Line park/neighborhood. This is an old railroad line running above a stretch of the southwestern part of Manhattan and that was turned into a park of sorts that winds through and mostly above a very trendy Manhattan neighborhood. We ordered and ate upscale casual vegetarian fare and drank $8 beers and although a little lighter in the wallet than before the weekend we left very happy and culinarily satisfied. The highlight was a dish from the Mediterranean restaurant Santia, called Cecina. It was a chickpea flatbread served with various filing options that you roll up in the flatbread and eat with your hands. We will have fun trying to recreate that one for months in the RV kitchen for sure.
Out last day we decided to take a boat cruise aboard the Manhattan II and it winded us from the Chelsea Piers down the Hudson, right up to the front of the Statue of Liberty, down the East River under the Brooklyn and Manhattan Bridges and back. Although I didn't get to try it out, one unique aspect for me was one of the old Chelsea pier docks that has been converted into a fully netted driving range with multi-tier hitting matt area. It was a great trip and way to round out a super fun yet exhausting Labor Day weekend.  (Picture Disclaimer: there was a wedding party on board the boat trip and we were not underdressed.)
Although figuring out the correct route into the park, driving there, and parking was a bit of a challenge, for anyone that is considering a visit to New York City via RV, we highly recommend the Liberty Harbor RV park. Our overall experience visiting the city was tremendous and at least for me (Jeremy) a first time experience. If, however, you are the fearful paranoid type that is afraid of public transportation and that gets angry when people don't speak Merican when in Merica, consider elsewhere for your vacation and just stay inside and continue to Facebook about your latest and greatest fear, as you definitely won't like it here. It is not any particular location, sight or even a specific restaurant or bar that we loved. It was the vibe of the city itself, the people, the energy, the diversity and the culture. It is a unique place like no other in the world and we consider ourselves fortunate to have the means an opportunity to experience it the way we did.