Written by: Jeremy
As I am sitting here enjoying the new found freedom of a wife with growing confidence behind the wheel of a truck and pulling a travel trailer, I have had some extra time to take in the expansive state of Kansas via the well traveled but admittedly dull stretch of Interstate 70 cutting through the heartland.
Although we are new to full-timing, road trips across I-70 from Denver to visit family in the Midwest is not something new. We have made this trip many times. In fact, the state of Kansas has become sort of a punch line for us and our cool Colorado friends. Long flat, odoriferous, boring stretches of road broken up only by hate fueled, ethnocentric billboards wedged in between an even greater number of billboards for "Adult" bookstores, junk food, and signs luring you into a dilapidated farm for the privilege of looking at a five legged cow. We could only imagine the disappointment on a child's face when they find out the World's largest Prairie Dog is just a somewhat large ceramic statue that looks somewhat like an actual Prairie Dog.
One of our very favorite activities was discussing with other travelers about just how bad that trip across I-70 sucks and what a joke Kansas is. When travel planning, we actually discussed whether or not we even wanted to stop for one night in the this state, let along the two we ultimately settled on.
Our first night at a local KOA, just across the border into Goodland Kansas, was somewhat charming with a putt-putt golf course and large dog exercise area. It was, friendly, clean and respectable, but ultimately , the highway noise, and overall experience was about what we expected which wasn't much. As we moved on for day two we contemplated if we wanted to make the second stop we had planned in Kansas or if we should just blow through.
Fortunately/unfortunately, a couple of urgent work emails for me caused us to need to find a place for the evening. Wanting to avoid another noisy night by the highway, we drifted a few miles off course to Milford State Park near Junction City. As we wound our way through the expansive, but relatively empty State Park in October, we began to experience Kansas in a different light.
Having no idea which of the seven available campgrounds would accommodate us best, as usual Robin headed into the State Park information area to make some friends out of the locals and to get the inside scoop. There she met Mel, the campground host from the "Woodland Hills" loop. He immediately pointed us away from the more expensive full hookup sites encouraging us to forgo the onsite sewer dump sites at the more crowed campground loop for the quieter and shady loop he hosted and that has level concrete pads but no sewer hook-up. He even offered to let us follow him there in his truck so he could show us the grounds and point out the sewer dump that we could easily use on our way out after our short one night stay.
Mel did not disappoint and pretty soon we were set up in an absolutely gorgeous, shady, level, and private spot where I got set up in my new office for the evening just before the sun began to set.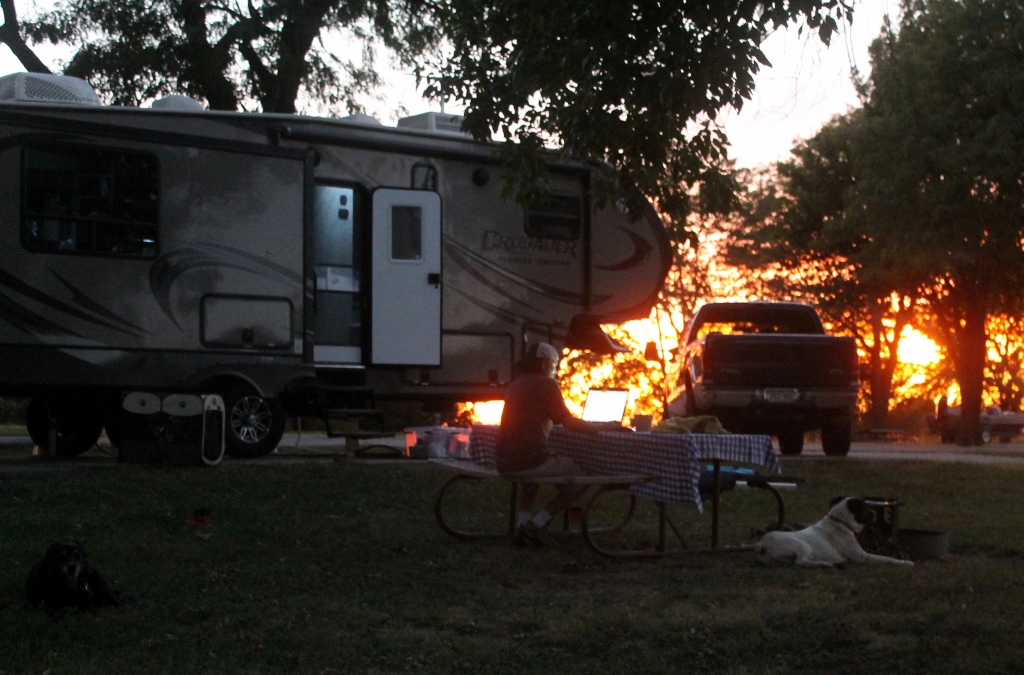 Mel was by a little later to drop off a load of firewood that he thought we might find useful. Again, Mel was right. Although I had a mountain of evening work to do for my business, the dogs were not about to let us settle in to computers and then go to bed without exploring this place at least a little. Certainly not after we spent over five hours in that truck. What we soon found, less than 10 miles from the dreaded Kansas I-70 corridor, was a beautiful lake and sunset walk that rivaled any expensive island vacation sunset that we have ever experienced. Considering the fact that we had the whole place to ourselves, that our dogs got to join us, and that I got to sleep in my own Sleep Number bed for less than $20, it actually beat those sunset vacation beach walks by a long shot. Within a few minutes waking around taking pictures, living and breathing in this wonderful place, my heart changed and this blog basically wrote itself into my head just like that.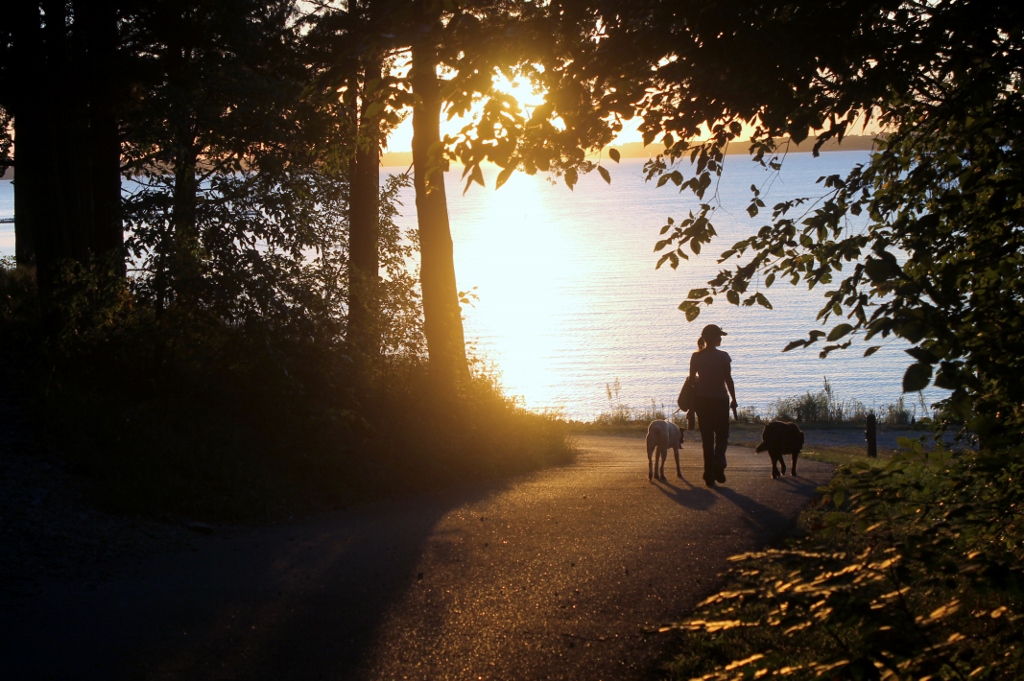 What we could see and feel almost immediately was that this new journey would be far more than just a series of punch lines as we rush on through to our next destination. This is what our journey is about. In our previous life as typical Americans racing down the highway, trying to get in a short family visit in Missouri before our paid vacation time was used up, we had never really taken the time to stop in Kansas and see anything let alone actually meet a person.  Our minds were already made up as we held our noses and plowed through. As we strolled through Milford State Park the error of our previous way of thinking and living became even clearer.
How much else of our lives to-date have we missed because we were too busy speeding through with a predetermined and fixed viewpoint? For us, where we are right now, is where we are in life. The state of Kansas is a state of mind. It is very easy to view what people post on social media, the television news or even the messages of billboards and to see this as what life is all about. In reality these things aren't even real.
Rv Lesson #2: Every once in a while, you have to pull off the highway, slow down, breathe and actually experience the present world in front of you instead of creating the experience in your own head.
Kansas, just like life, can be whatever we want it to be! It can be a hell-hole of a state that's primary redeeming quality is the 75 mile per hour speed limit, or it can be the place where campground hosts like Mel, make you feel like you are at home visiting family  and sunsets make you feel like your are on a world class vacation. It really doesn't matter that in reality, you are at a campground in the middle of Kansas on a Monday night in October for no particular reason.
It is all up to us! I guess it is a good thing we figured this out now considering our next intended states are Missouri, Illinois, Indiana, Ohio, and West Virginia.
I personally, can not wait to see these places again for the first time!