Written by: Jeremy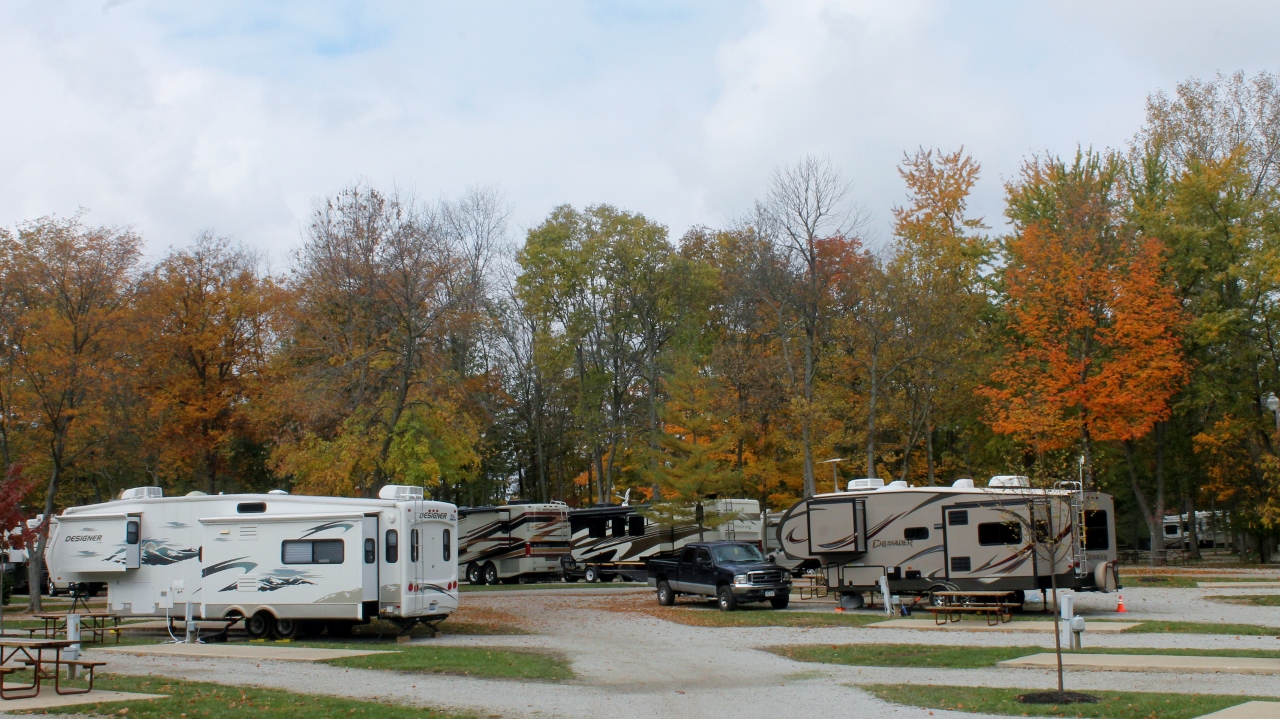 As we begin our journey, Robin and I are easing in with relatively short driving days. Of course, the short travel days result in more stops between planned destinations. In fact, in just the last three weeks we have been in eight different locations including two state parks, four private RV parks and two private residences.
This is not necessarily our intended amount of moving but more the result of our need to get in some family time before the weather turns and we need to get south. Let's face it, charming Milford State Park aside, there is not a ton of reason to linger anywhere between Denver, Colorado and Dayton, Ohio. We are currently set up at an RV park in Ohio visiting family after visiting family in Missouri. We will spend a couple of weeks here before heading south for the winter.
In addition to getting the hang of driving, we are also starting to get the hang of the whole set up and tear down process associated with our new 5th wheel travel trailer. We have had the trailer for a while so we have had plenty of time to figure out how to operate it. Becoming efficient at all the steps required to move is something that is taking more time.
Since we decided to go with a 5th wheel over a motor home I knew set up and tear down with hitching and unhitching would be more of a hassle on short one night stays. Because of this, the "Automatic Electric Leveling System" was a feature we decided we had to have.
"Find a spot, push a button to lower the gear and then hit the Auto Level button once and you are done!" At least that is how they explained in the RV sales showroom. The reality has been a bit different and we have found that getting the trailer fairly level to start is a prerequisite for the "Auto Level" system to work. That stipulation can be a challenge in a lot of Colorado. Considering that the system has already broken and had to be repaired, I am still waiting for the final determination on return of investment on this upgraded feature.
Other parts of the process are getting easier. The hitching and unhitching process is getting smoother every time as is the operations and procedures associated with the three slide-outs. Packing up and securing everything for travel while managing four animals is also something we are getting better and better at. Electric, water and sewer hook-ups are also now a breeze, although the process is still well short of a no-brainer. So far, the only real damage has been to a piece of trim and a cabinet door that that had an unintended union when putting out the office area slide-out.
The final and most important piece that we have had to learn in navigating RV parks is the park staff and/or ownership. We have found that most RV and campground websites are fairly limited and your best bet for getting a good spot and deal is with direct communication with the friendly staff. We have met RV staff of all sorts. Older family owned parks seem to be fairly common and lets just say, the pace is different that we might be accustom to in our previous daily lives.
Pretty quickly, we determined that I am not really cut-out for this job and Robin has taken over all phone and in person communications with RV park personnel. In fact we have determined that it is best if I wait in the car or act like I am checking out something on the trailer while Robin goes in alone. Although I have only done it once or twice, the line of communication in my experience can be something that extends my patience over the edge. Especially after a long day of driving:
Me: "Hi, do you have any available spots for a 32ft, 5th wheel".
Staff: "Well, I recon we could get you in."
Me: "Great, can you tell me what your rates are."
Staff: "Yes"
Me: "OK, what are they?"
Staff: "$30/night"
Me: "Ok, we may end up staying for a week, do you have a weekly rate?"
Staff: "Yes."
Me: "Ok, what is that rate?"
Staff: "Well that depends on what type of site you want."
Me: "What are my choices?"
Staff: "Back in or pull through?"
Me: "How about a pull-through."
Staff: "There aren't any pull-through's available this week."
Me: "Ok, I guess a back-in then"
Staff: "Back lot or front lot?"
Me: "Is there a price difference?"
Staff: "No"
Me: "Ok, I guess we will just take front lot then"
Staff: "Really?"
Me: "Is there something wrong with the front lot?"
Staff: "Well, most people don't like parking right beside the dumpsters."
Me: "Do you by chance have a map or any literature that details all of this?"
Staff: "Yes"
Me: "That would be great. Maybe it would be easier if I just looked at that".
Staff: "I recon we could print one out for you".
Me: "Ok, if it is not too much trouble."
Staff: "No trouble, Just need to get my daughter from the basement. She is the only one who know how to use the computer and printer."
Me: "Can you tell me if your general store carries Scotch?"
When Robin takes care of it and I stay outside, for some reason, we seem to get much better sites and usually we have the staff doing us favors by the time we leave. I don't know what she does or how she does it, but then again, the TV and internet is a mystery to her so I guess it all works out for us in the end.
I have even tried to book places on-line that say they are full. If it is a place we really want to stay, Robin usually calls to make sure. Five minutes and plenty of mutually animated telephone belly laughing later and we usually have our spot!
RV Lesson #6: When trying to get the best possible RV camping spot, personality goes a long way.  However, you have to be ten times more charmin' than that Arnold on Green Acres, you know what I'm sayin'?