Written By: Robin
Here is the story and pictures of our trip to Jekyll Island, GA.
Our first outing to one of the local establishments helped us to better understand the current story of beautiful Jekyll Island.  As we sat by the water and filled our tummies with local seafood and brew, we chatted up the "rah" bartender and got the scoop.  Her description was "the island of newly-weds and nearly-deads"!  After we stopped laughing she proceeded to tell us about the busy-season full of young couples getting married in the gorgeous historic district and how beautiful and prosperous the island is during the spring, summer and fall.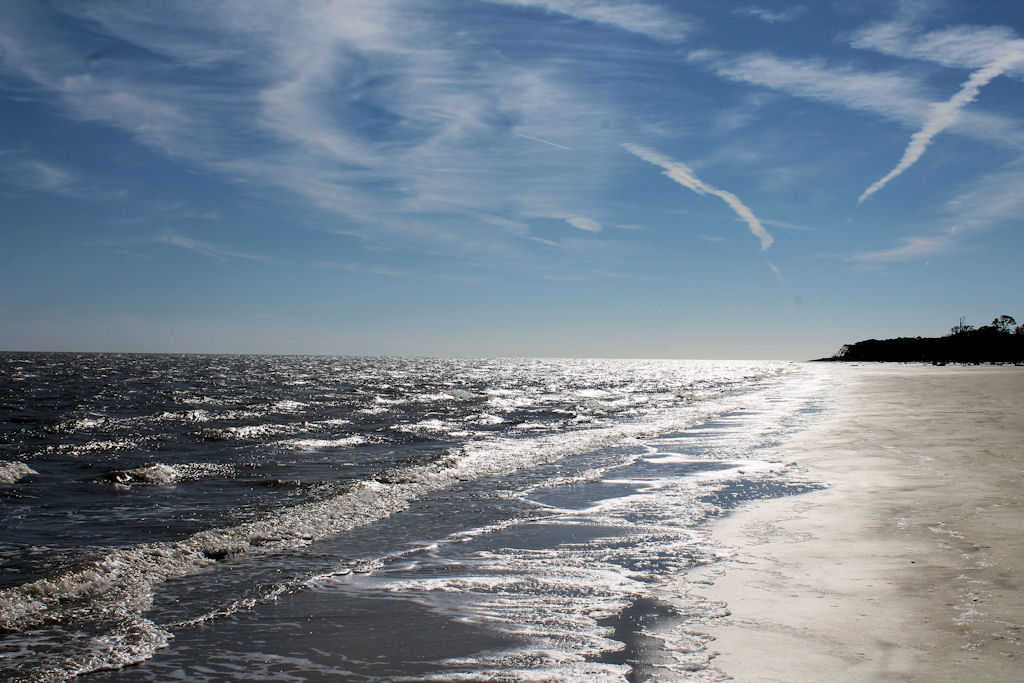 With temperatures in the high 60's and mostly sunny days during our stay in early December, we found it to beautiful in the winter too.  That being said, we had noticed a different feel to this island but couldn't quite put our finger on it…until we heard her description and realized that we were the closest thing to newlyweds that we had seen there so far (and we have been married for over 11 years!)  It helped to explain the strange looks we were getting.
We heard all of the stories about how this little island used to thrive for many other reasons, including their old convention center where many conferences were held.  Apparently over the last 20 years many factors, including the economy and the creation of an enormous Convention Center in Savannah have taken a toll on the island, and contributed to the many closed down hotels and shops we noticed as we drove in.  We thought it was just because it was "off-season", but apparently this little gem is in a state of transition.  In the last few years they have built a new state-of-the-art Convention Center, several new swanky hotels are being built and some old ones renovated.  I heard from several locals throughout the week that they are "coming back". From the looks of it, they are indeed.
The great news for us was the ability to score a nice RV site for the week, and some of the best golf prices we have experienced so far.  To our surprise in early December, the local golf courses are well-maintained, nicely designed, fairly empty and super cheap!  I don't think we paid over $15.00 per person for 18 holes with a cart!  We played a very unique nine-hole course that has been around for over 70 years and had a mini history lesson on several holes.
Although it was hard to resist golf every day, we also took some time out to explore the island a little.  Driftwood Beach became one of our daily dog walks.  A relaxing a beautiful setting to watch the shrimp boats at work, listen to the waves and let the dogs explore.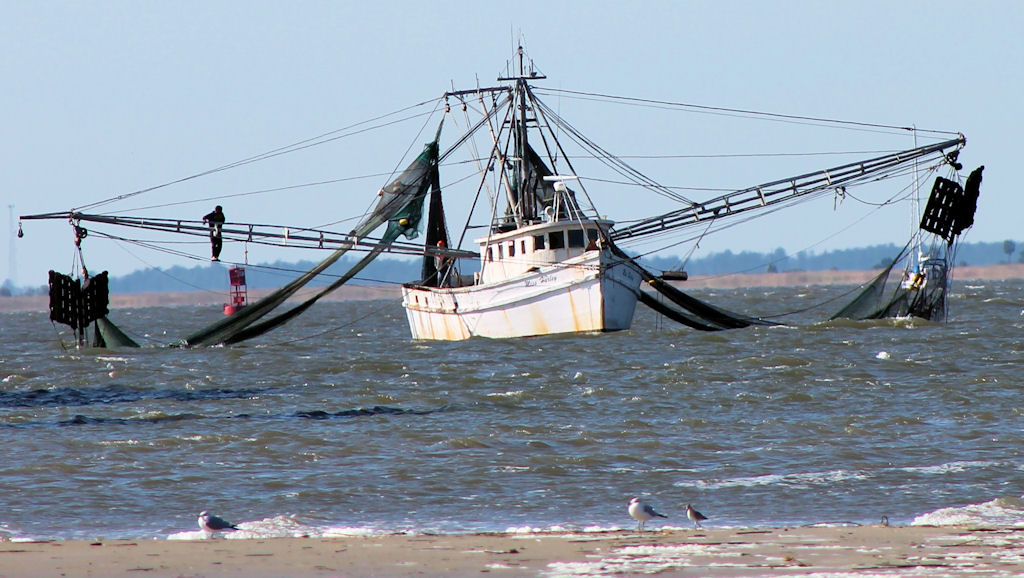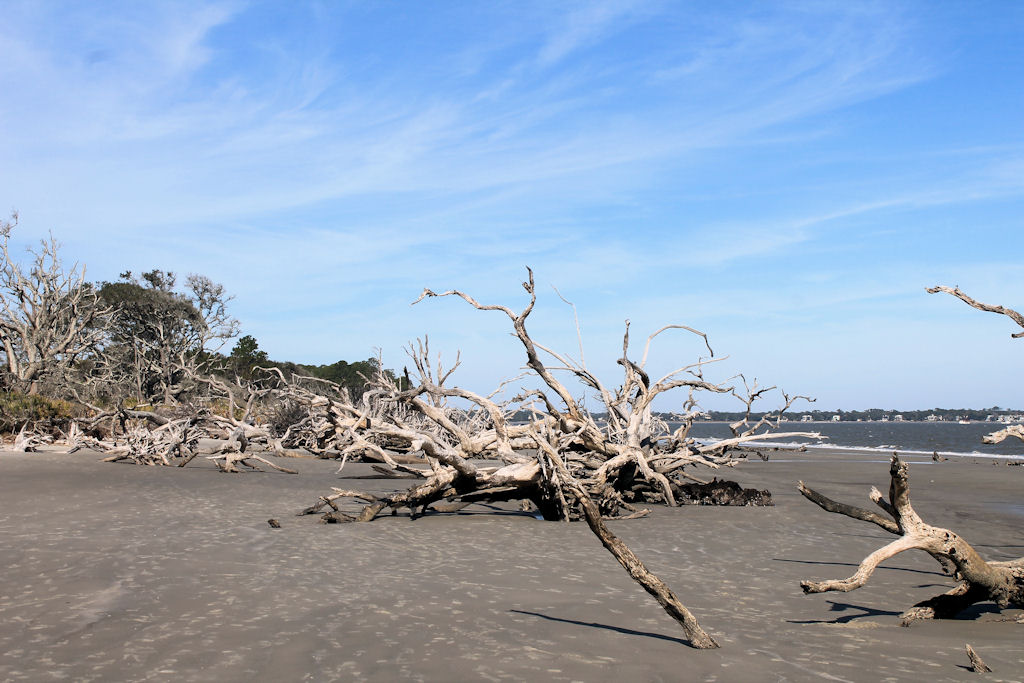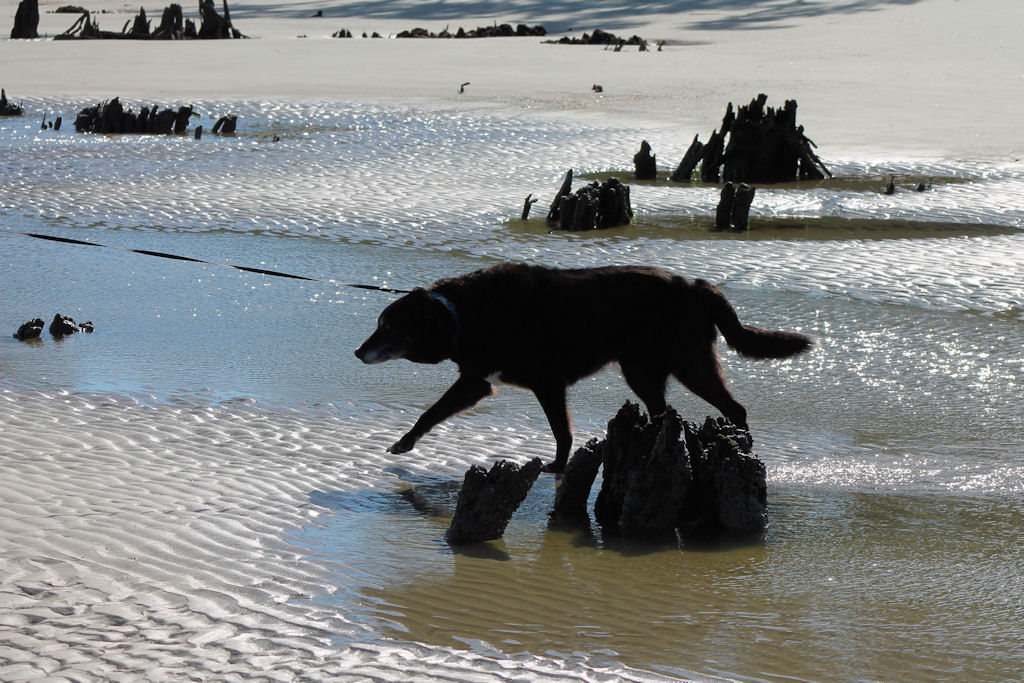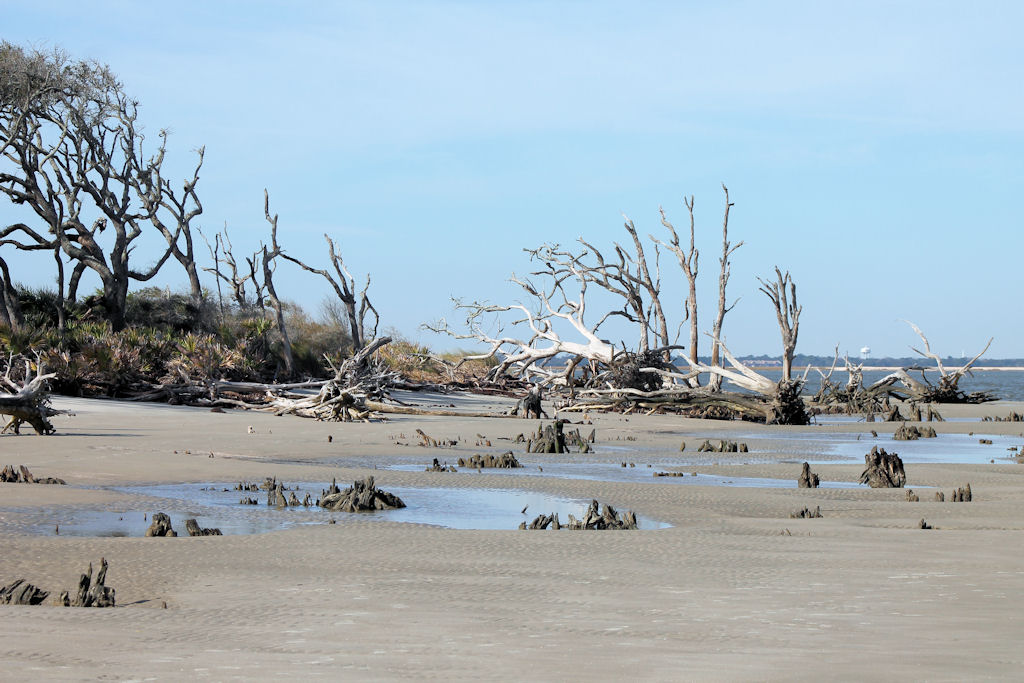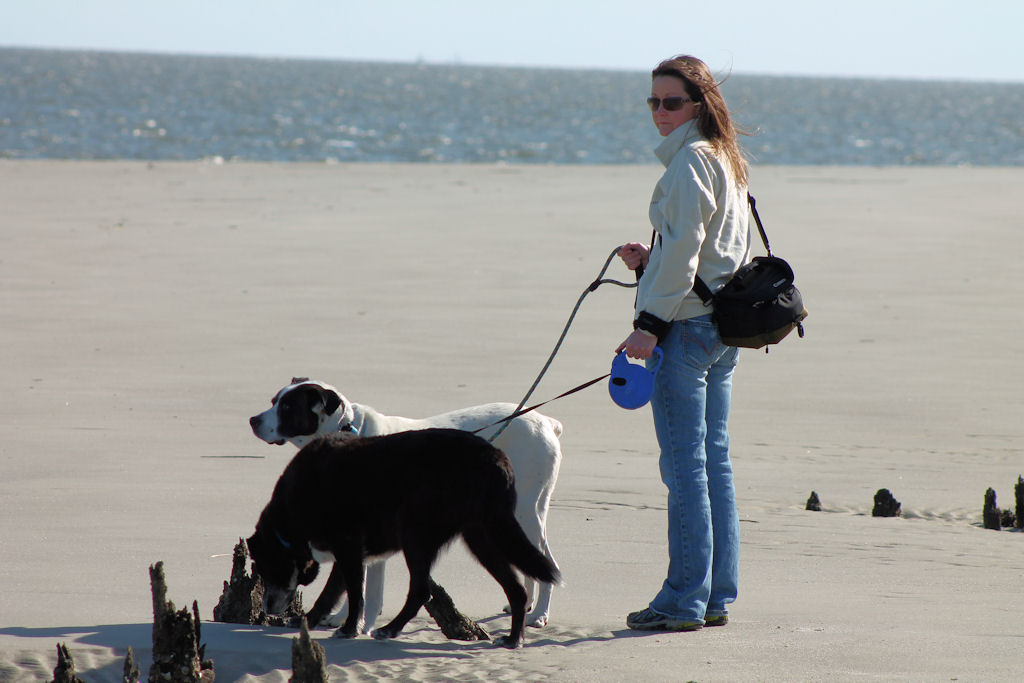 There were probably many things to do that we didn't take advantage of this time around, like visiting the city of Brunswick which was just over the bridge.  After hearing about all of the plans on the island to revive it to a bustling resort, we decided to enjoy the slow, relaxing pace that was currently the norm this time of year, without the all those newly-weds!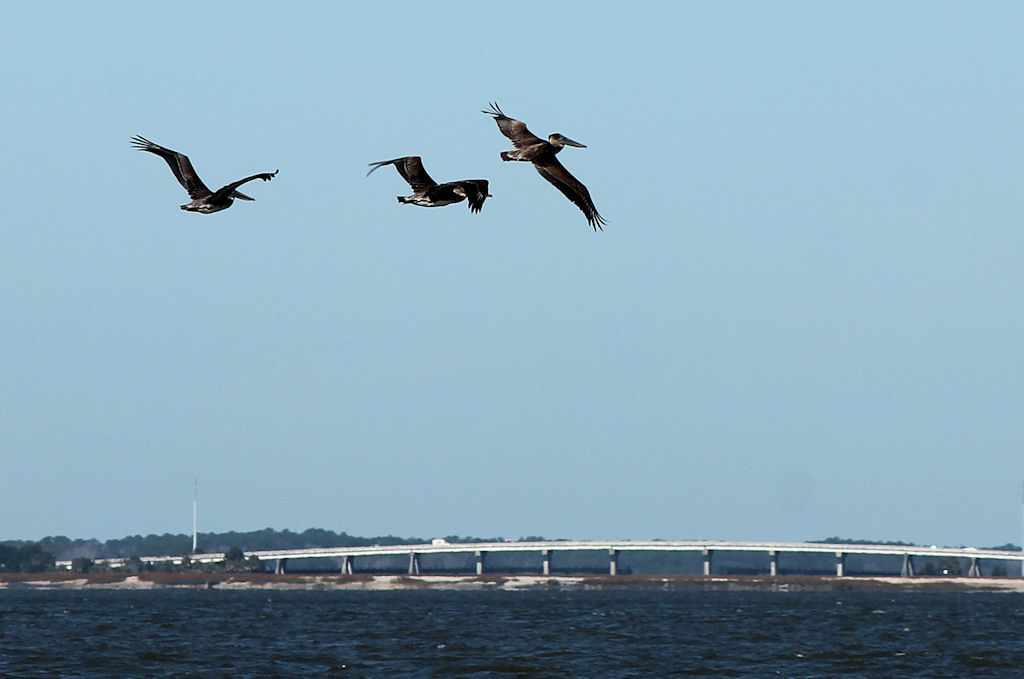 They joke about the "nearly-deads", but it struck me that this lifestyle might be exactly what makes it really only a joke.  Yes, the median age of the island seemed to be around 70, and yes sometimes driving 3 miles takes 15 minutes because you are behind the golf-carts that seem to replace cars here, but no one here seemed nearly-dead to me.  There was no shortage of 70+ year olds walking the golf course, riding bikes and hiking around.   In fact we met a delightfully lively couple at the car rental/mini-golf/pizza place who was busy planning their 65th wedding anniversary!  I understand the desire to bring more business to the island, but hopefully they won't lose the serenity that keeps even the oldest residents young at heart!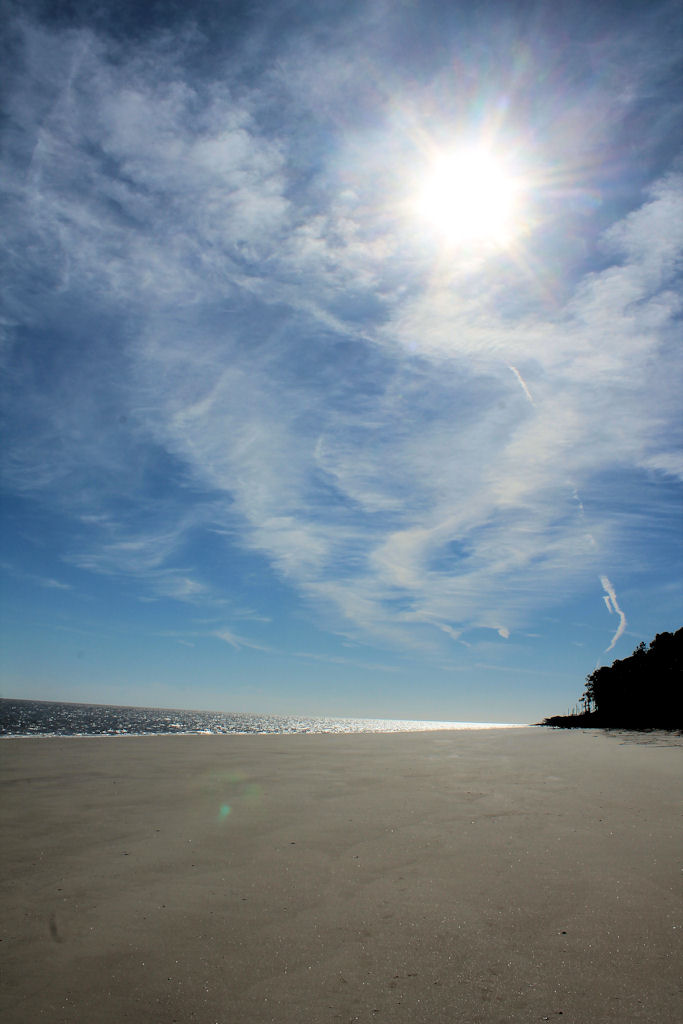 View Jekyll Island in a larger map