In the last blog I discussed how, instead of spending money on a week long vacation, we decided to do a month long snowbird style "staycation" and increase our spending for the month by approximately what a week long vacation would have cost us. After our golf week in Palm Springs we decided to take up residency at the Chula Vista RV Park for three weeks. Chula Vista is just south of San Diego and close to as far south as you can go on the coast without crossing the border. This is also one of the highest end parks we have been to yet and the price tag for three weeks in peak season reflected this more than adequately. I can't recall exactly what we paid for three weeks but it was somewhere between "too much" and "it doesn't really matter because we were on vacation".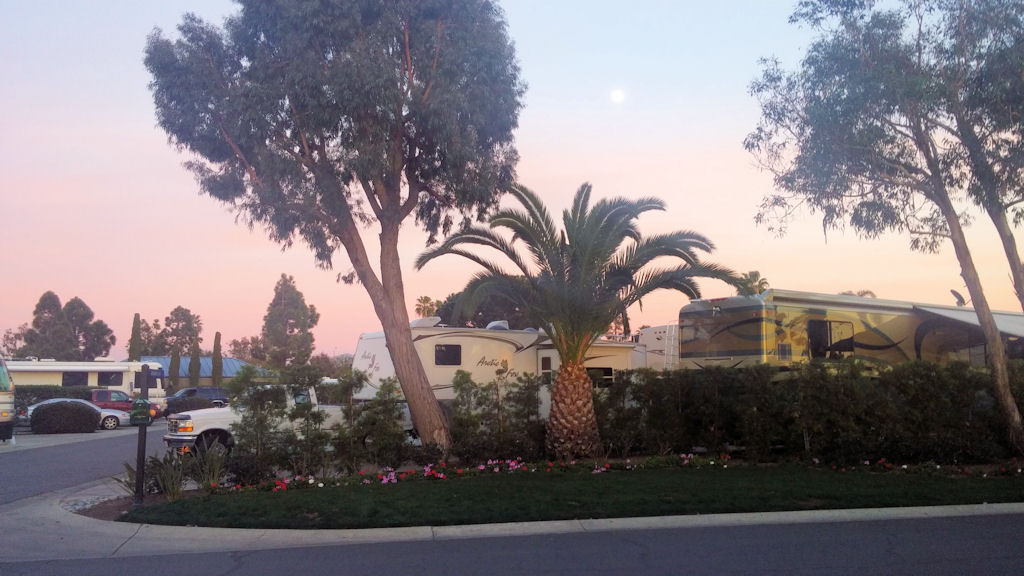 The park was beautifully kept and although the sites were not huge, they had great privacy with mature shrubs separating spaces. Perfect for outdoor Super Bowl viewing. The large pool and deck made a great office for the day or afternoon break spot.
As nice as the RV park was, the main attraction here for us was the adjacent waterfront park and marina. This became a daily hangout and the perfect setting for our long morning dog walks.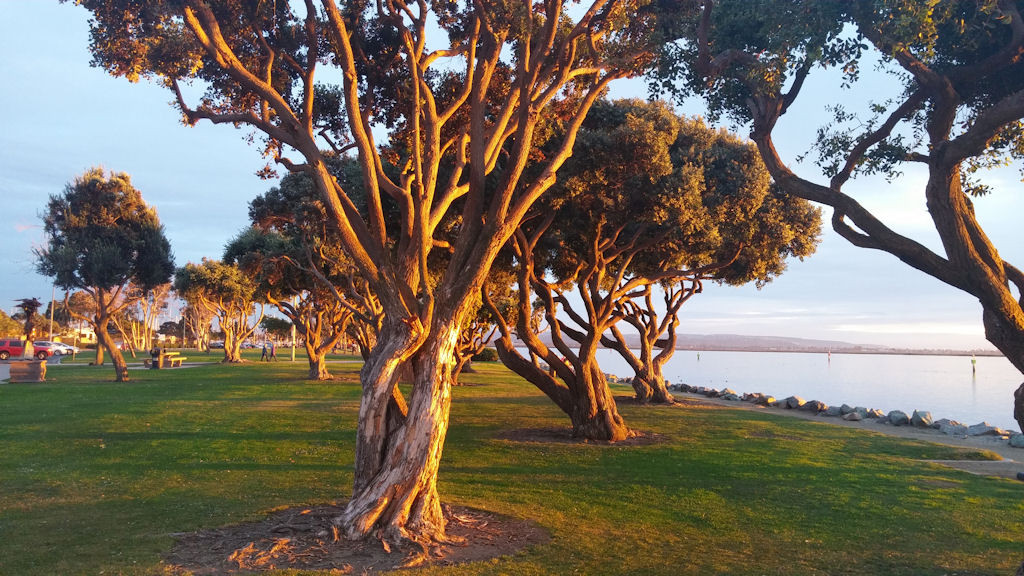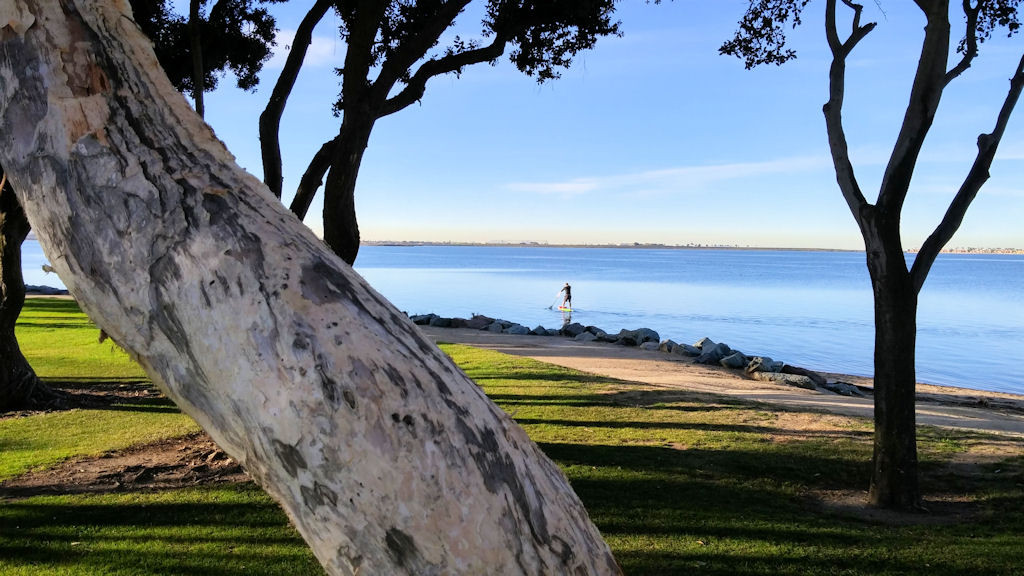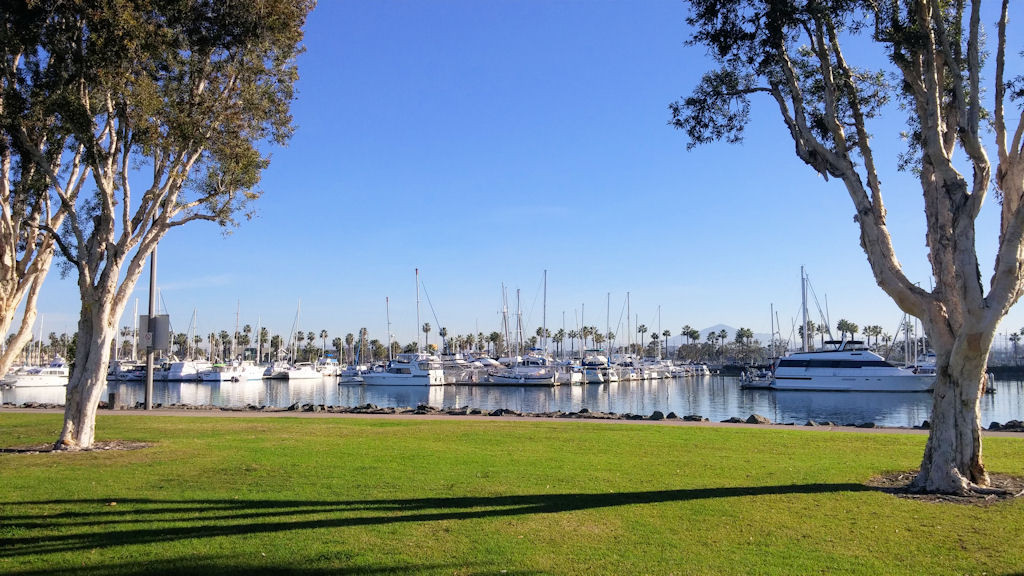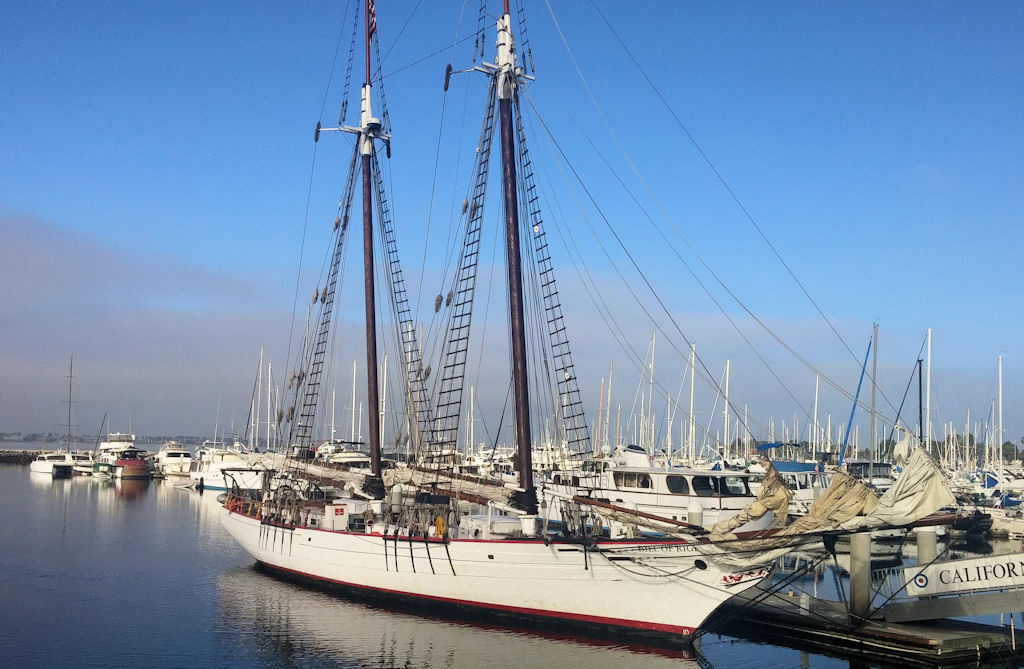 The perfect book end to a morning dog walk around the marina was a short jaunt out for the evening sunsets that rivaled anywhere we have been to date.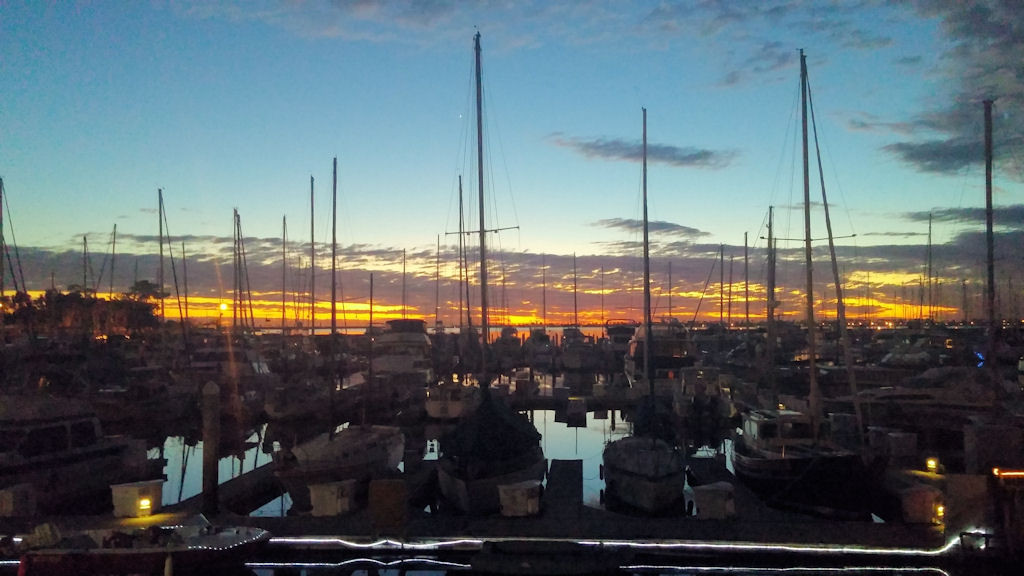 Although we rarely felt the need to venture too far from home we did do some exploring of nearby San Diego and Coronado Island. Our social schedule was also pretty full and we met some local and nomad friends out for a couple of nice dinners in San Diego's "Little Italy", Robin had a "girls night out", and we even spent a couple of days on the nearby beaches. Seems like a reasonable way to spend a winter to me.
We did also fit in a couple of rounds of golf at the nearby muni's and we also spent a day at the famous Torrey Pines where we got up close and personal with some of the top players (and coaches) in the game. It was foggy so some of the tremendous golf photography possibilities were unfortunately not realized on this day.
Last, but certainly not least, was the main reason we decided to visit this park. Our nomad friends Chris and Dani and their adorable baby girl Leni were spending the winter at the Chula Vista park where Chris was learning to sail and Leni was learning to walk. We loved hanging out with them again, sharing some meals and getting to see our favorite little nomad turn one! Just hanging out with these three make us instantly at least 25% cooler than we are.
Overall Chula Vista made the perfect RV location to round out a month long staycation and the weather here in January/February can not be beat. This place will certainly be on our list of places we hope/plan to return. At least as long as our business activities keep up.