In the previous blog we introduced everyone to the two clubs that we joined that provide a network of locations that allow overnight RV parking at a business. Part one goes into a little more detail of both programs. Upon leaving the second of two RV Golf Club overnights we still had a few nights to kill before our reservation at an RV park in the Bay Area. We decided to try out our Harvest Hosts membership by staying at a few wineries. Per the policy of Harvest Hosts we are not going to publicly review each specific winery but rather share our overall experience and pictures in a general way. Once you join the club, which we highly recommend for RV'ers, there is a map/list with all of the actual locations across the country. You can research each one to read reviews from other members, what they offer, who to contact etc…  This post will be more of a review of our experience with the program overall.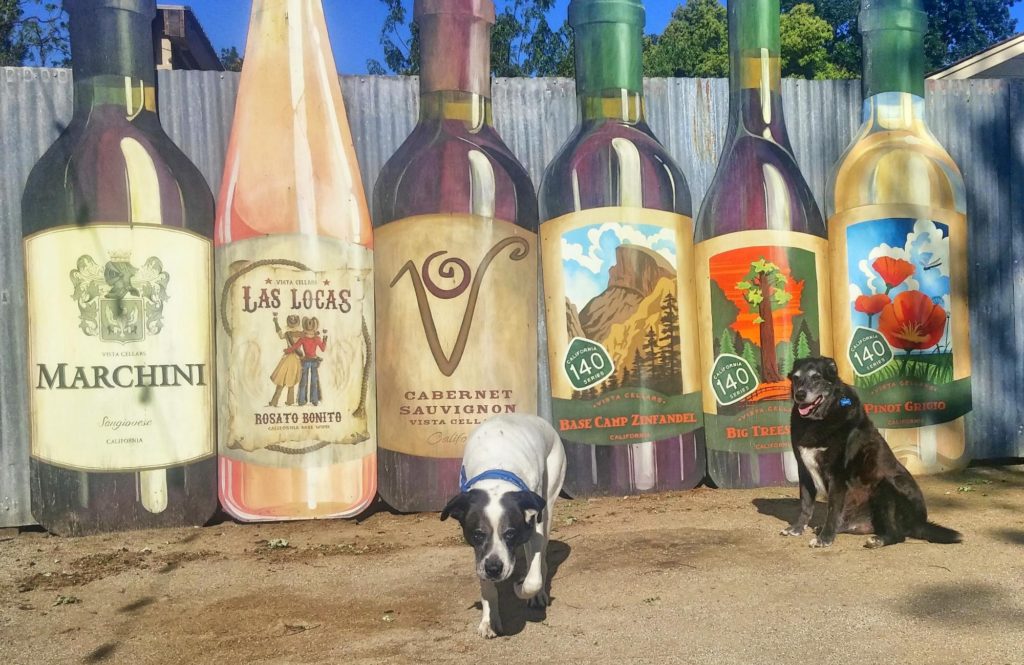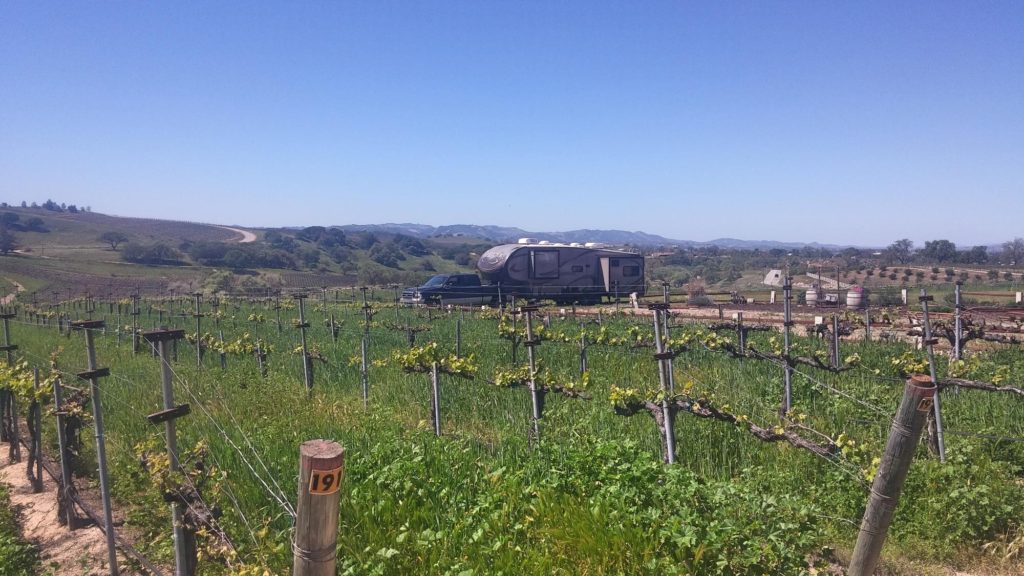 To be honest although we are wine drinkers, (Robin more than me) we are not exactly what you would call fine wine connoisseurs and certainly not experienced tasters. We can both talk a lot more intelligently about the nuances of a good craft pale ale than a fine Chardonnay although that doesn't mean we don't know and appreciate a good glass of vino when we try one. Occasionally you will find a decent bottle or two in our RV but more often than not, a decent box of wine is what you are more likely to find. We like to say that we prefer boxes because of environmental and RV space reasons or because "a whole bottle of wine is just one glass too many." The truth is probably more that a bottle is one glass too few and that we genuinely like some inexpensive wines that we have found. I guess it is like how some people actually like Bud Light – shudder!! Regardless, we are open minded and ready to expand our horizons. Luckily we found that most wineries we visited had a variety of wine for all levels of palette and budget.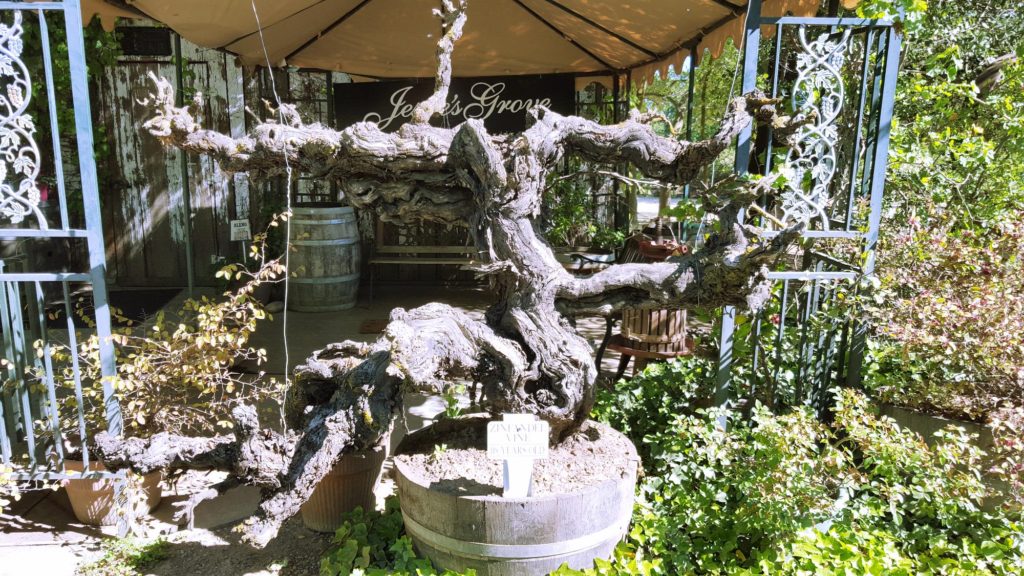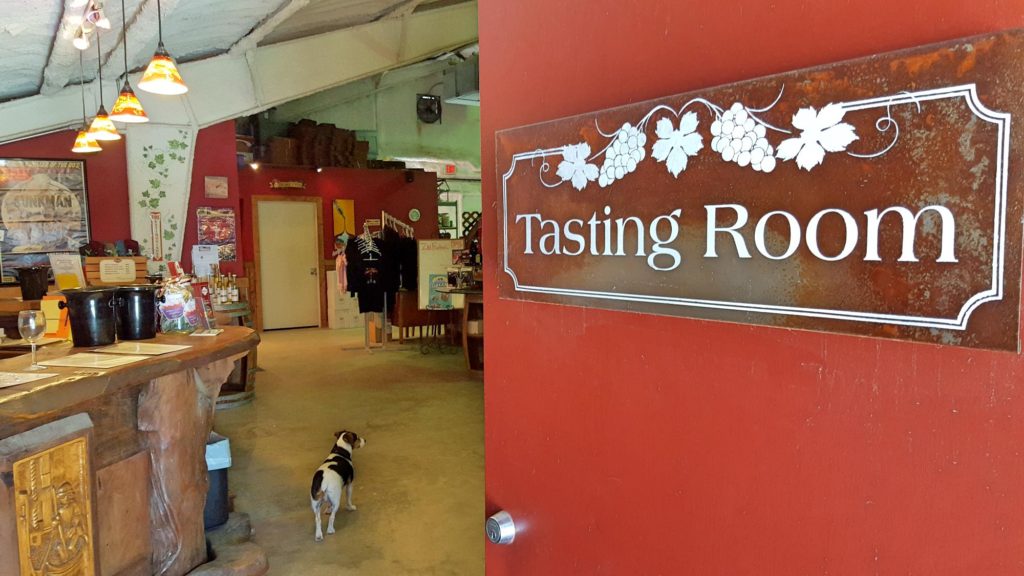 We researched several blogs and read reviews about the Paso Robles wine region of California and about how nice, laid back and beautiful this area was. We also determined that there were several Harvest Hosts in this region. So we started what would begin a pretty glorious stretch of Harvest Host hopping as you can see.
The pictures kind of speak for themselves on this one. We stayed at two different wineries in Paso Robles and both were great experience and both allowed us to stay for two nights. One night is typical but you can ask and some do allow a second night. One was a little more of a larger corporate type operations with some specific rules and requests for us with a basic open field parking lot. The tasting room here was packed with multiple bars and a staff of people keeping things pouring. The other was a smaller family owned farm and they were unbelievably laid back, nice and accommodating to us and they had outstanding wine and an unbelievable property that they were beyond generous to share. By the time we left we felt like part of the family and were sad to go. Both experiences in Paso Robles were wonderful and we knew that this was going to be a way of RV'ing that we will continue to explore.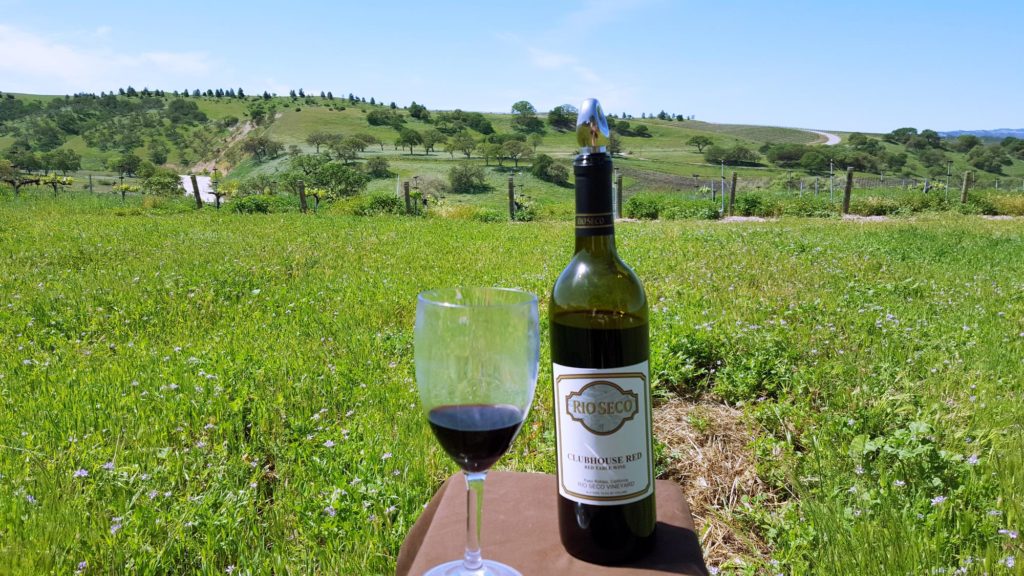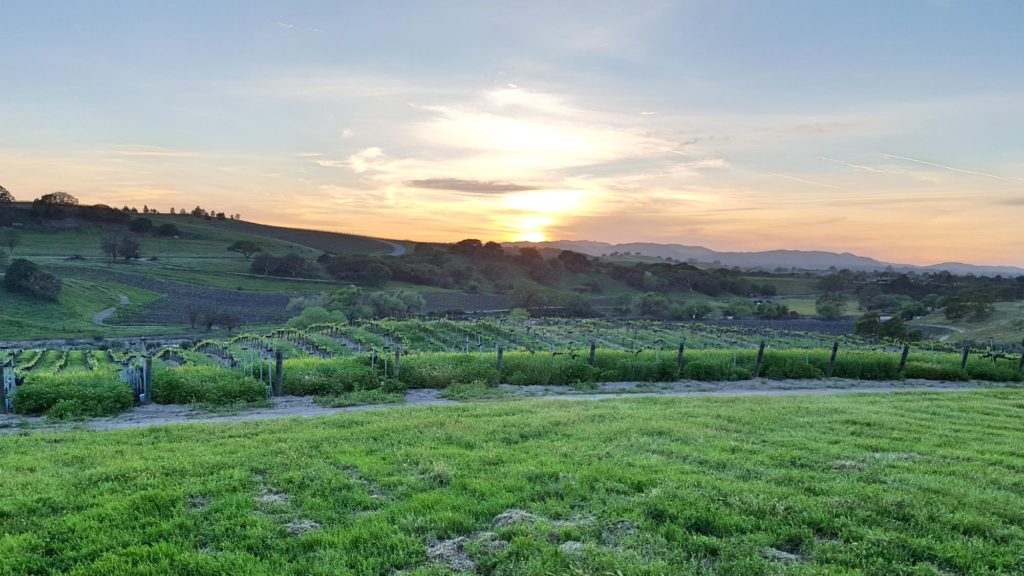 We even had the pleasure of meeting some new friends Nina, Paul and their furry companion Polly during our stay. If you are even remotely into RV blogs you probably already know their outstanding and popular blog over at wheelingit.us . Their blog was and continues to be a great inspiration and resource to us and quite a few others as we first considered leaping into and are now living this life. It was cool to meet them and to get to share what was their first night of Harvest Hosting. Polly and our boys got along great too and they quickly formed a mini pack to explore the farm.
After our four nights in Paso Robles we moved on to our reservation near my brother's where we hung out with family and I took my golf trip to Georgia. After I got back and when our reservation at the RV park was up, we again started thinking about migrating back east although we didn't really have anywhere in particular to go.
We thought about Napa but soon found that there might be more unique and available Harvest Host locations in an area called Lodi, California. So that was our next move. We ended up doing three wineries back to back in Lodi and once again we can't say enough about our experience with this program in that region. On our way out of the region back south we found another nice gem of a little farm and this one even offered a 50 amp plug and water connection to overnighters!
To be honest, although right up Robin's alley, wine tasting is not really my thing. Like we mentioned, we are very much novices with wine and that can be a little awkward when you belly up to one of these fancy California wineries with the soft music playing.  Unlike me, most of the patron tasters seemed as comfortable as I would be at a dark, smoky, Midwestern hole in the wall bar with a couple of pool tables, and the Allman Brothers coming out of a crackly jukebox. None the less, I sipped, swirled, swished, and played along as best I could although I was usually relieved when the tasting was over and we could just buy a bottle and take it out to the patio. To be honest though, all of our experiences in California with wine tasting could not have been friendlier, easier or more comfortable and we learned a lot. Not just about the wine but about old vines and young vines, how they are farmed and harvested and even some first hand info about the particular vintage from the actual people responsible for making the wine! All very enlightening but I still do feel the experience is like going to a bar where you are required to chit-chat a little with the bartender before being granted each slug. I really think more should go to a wine fight type of presentation or the slot machines style we encountered last year in Buellton, although I realize that is just not how it is done and that some people, like Robin, actually enjoy casually chatting with strangers and learning new things.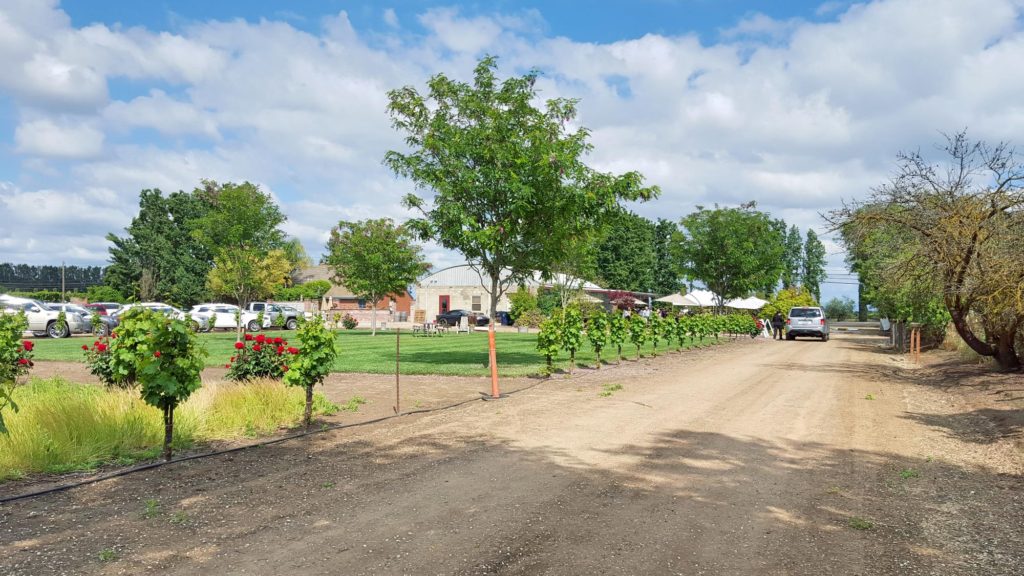 The next picture is a good one of me practicing how to properly hold the glass and swish the wine while Rufus practices how to not snatch snacks off the table. It is a work in progress for both of us.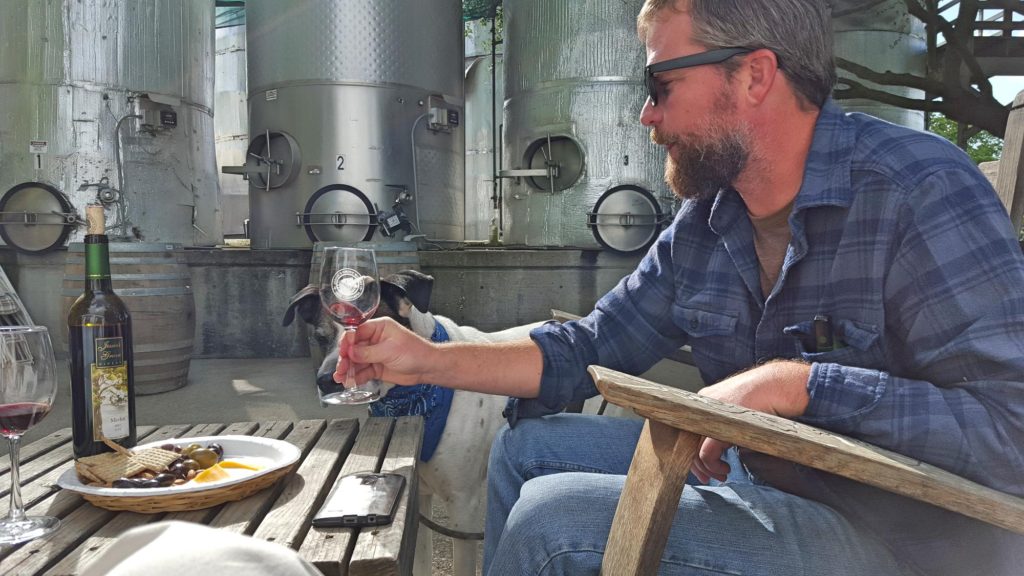 Even if the formal tasting portion is not my favorite, we all found that we loved these locations as overnights! They were perfect for our family. Then again, for full time RVers that travel with four animals on board, I am not sure why we would be surprised that a farm is a good fit for us. All were very dog friendly so the boys got to hang out with us on the patios and even inside at most. With permission at each location we also enjoyed miles of hiking through some gorgeous fields and orchards while enjoying near perfect California weather.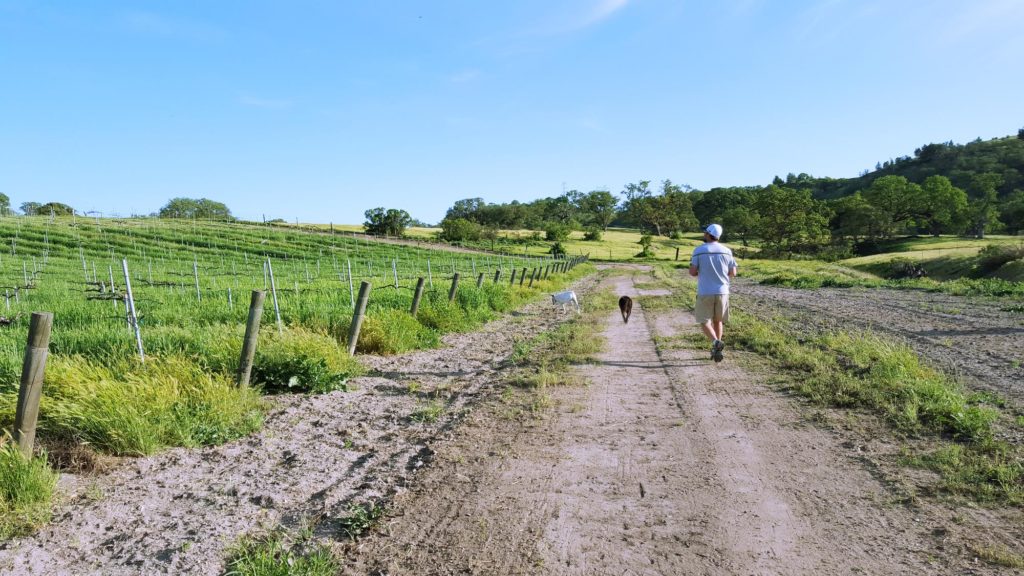 Life on the farm suited us and the dogs perfectly for a couple of weeks and believe it or not we were still able to get some work done and live like we do most locations. Just a little more moving and a little earlier happy hour on most days as tasting rooms were typically closed by 5pm. Easy to justify when you are also paying the rent. The rest of the night we had these amazing places to ourselves.
I also liked how we did this trip. Rather than using Harvest Hosts as an overnight stop over between scheduled destinations we made each of these regions the designation and then hopped from local place to place. Most of the time we just left the truck hitched up so that coming and going was easy.
Last consideration that I have to mention is the cost. I think if we look at what we spent on wine it might be easy to question how much money we actually saved. But when you look at the cost of available RV camping, and then figure more often than not we would have still ended up stocking up on wine or beer, we discovered we actually made out like bandits on our two weeks. And when you consider some of the views, walks and locations we enjoyed it is hard to even begin to put a price tag on the experience.
For less than $50 per year this is one RV club that is an absolute no brainer for self contained solar powered travelers!