For this blog rather than blogging about a specific location I am going to blog about one epic day in our full-time RV life. It may not be the greatest day we have had on the road, but I think that for a random working Friday in October it was a pretty good day. Sure there will be days where RV living and life in general will be a solid gut punch, but on other days, like our last day at Palisade State Park in Utah, simply living, breathing and moving  through a normal day can feel like poetry in motion.
Considering it was not even planned before Friday morning, for me, this day is representative of the ideal side of the full-time-RV, self-employed, and childless, nomadic lifestyle we choose to live. By the way, I Googled "childless" because I didn't like how it sounded and wanted to see if there was a synonym that would be better in the blog. What came back on thesaurus.com was "infertile, infecund, sterile, and unfruitful". Funny, but not exactly the words I was looking for to describe our experience being a "childless" couple on this day. Robin Suggested "childfree" and that might be closer to what I had in mind but I certainly do not want to insinuate that we believe a valid antonym would be "child-jail". I digress, back to a day in the life.
6:30 am: Woke up, fell out of bed, dragged a comb across my head. Just kidding about the comb, haven't done that in years. We did start as we do most days with a few minutes of formal seated meditation. We had to get creative to accommodate the two big meditation cushions in the RV and when not in use they are stacked to form an ottoman. In all honesty these were never on the list of things we even considered cutting when planning and packing for our time on the road. More than anything else, I consider this practice our ticket to the freedom to live the life we aspire to live. Simple as that.
7:00 am: After a strong cup of French press coffee and a homemade breakfast smoothie, we both dug straight into our work day. This summer we deleted the separate work stations and installed a double work desk. We love the extra RV space but the new work area is cozy.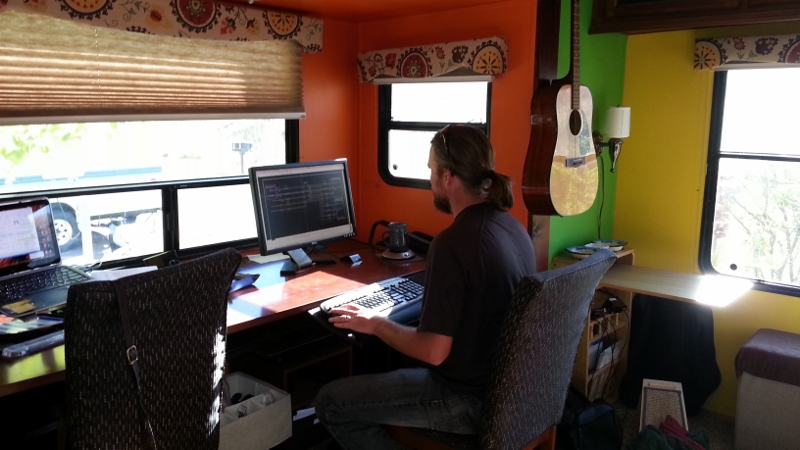 Noise cancelling headphones are a must for when the other is on a conference call. Work has been busier than usual for both of us and although thankful for the steady employment, life balance, at times, can be a struggle as I am sure it is for everyone else.
Every time we begin to feel frustrated with work, we have to remember what an incredible opportunity we have to be paid consultants in the profession for which we have academic degrees and years of experience and we can do it from an RV in a State Park, or really wherever we want to be in the country. That may not be living the American dream for everybody but it is for us.
Today I was answering/writing emails about an existing aircraft project and starting the AutoCAD design of a new electrical system that will be installed hundreds of miles away in a 3 million dollar business jet that I will never even see aside from its wiring diagrams and electrical documentation that are wired to me electronically. Similarly, Robin's work day consists of crafting and designing the way potentially multitudes of children will be educated by teachers in public and private schools across the country. Kids she will also never know personally, but that she may well personally influence in a very real and important way.  Kind of amazing when you think about the non-traditional modern day ways that an electrical engineer and a school educator can work and earn a living.
Although previously primarily a retiree lifestyle, as employers and entrepreneurs like us start to pursue them, I see a potential increase in opportunities to live this kind of nomadic lifestyle and remain in your chosen profession, whatever it is.
While the hungry and growing American, corporate, greed monster gobbles up the meaningful career opportunities that previously existed and craps out slave labor and unlivable working conditions for disproportionate wages, it is understandable why so many people like us, that were not looking for a career in middle management, were looking for a ticket out.
It sure would be nice if a few more college degreed and experienced but burnt out and disillusioned public educators and engineering cube dwellers could find ways to contribute to society, their chosen profession and our countries economy short of quitting it all to sell cosmetics or diet supplements to their gullible friends on social media. Although I don't blame people for wanting a ticket out of their miserable corporate or public jobs, the types of opportunities that I see being perused and profited from will only result in a pyramid shaped house of cards economy that sooner or later is going to fall.
9:00am: Rufus and Hank's whining and panting reminded us that we had been doing morning dog walks lately and that it was about that time. Palisade State park has the perfect dog walk all the way around the lake and back to the campground. With an excursion up the adjacent hill side to take in the views, we managed a solid 50 minutes of morning dog/people exercise.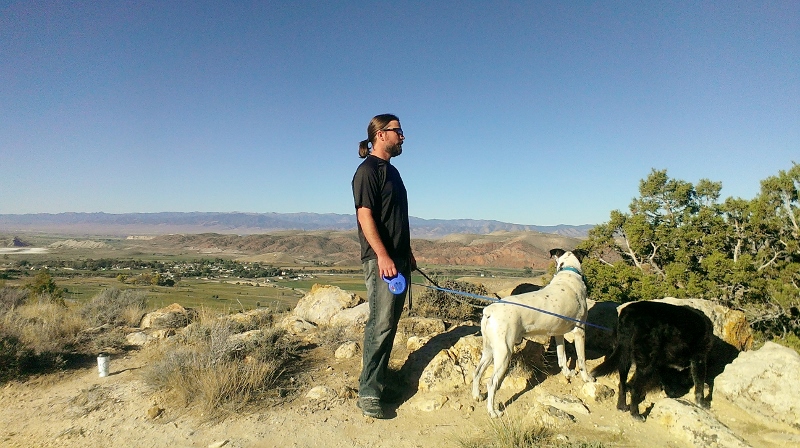 Views from the top of the hill overlooking the adjacent State Park golf course, the lake, and vast Utah farm valley are stunning.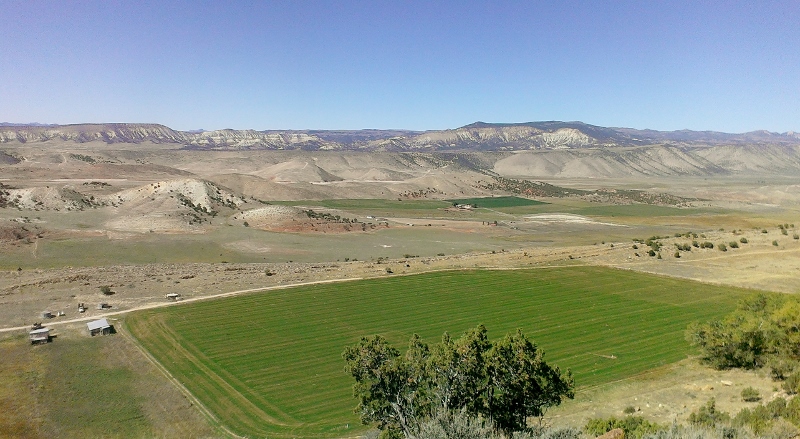 There is not much else around this part of the state as far as we could tell or see, and we never even attempted or desired to venture out of the park to verify.
10:am: Back to work for a few more hours. Although we had planned to do "happy hour golf" for nine holes after work, the perfect weather and nearly empty golf course directly adjacent to our campground was calling my name. I had already snuck out for 9 holes after work both of the previous two days but I had not had a chance to play the back nine and we were leaving early the next day. I continued to work but was also thinking about golf. So pretty much a normal day at this point.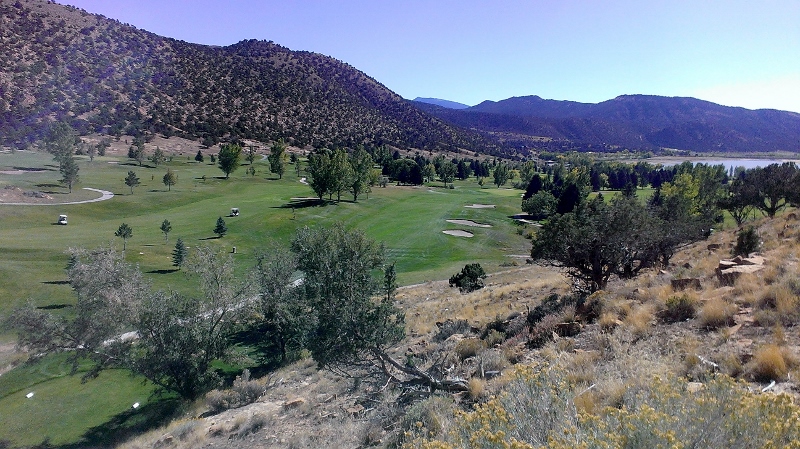 12:30pm: After some quick work week hour calculations we both agreed (mostly I convinced) that shortening our work day by a couple of hours was more than justifiable on a Friday. I called the course and got a T-time just to be sure and we dug back in and squeezed out another hour or so of business.
1:30pm: We threw on our golf digs, grabbed some granola bars, spiked our water bottles and made our way up the road to the Palisade State Park golf course.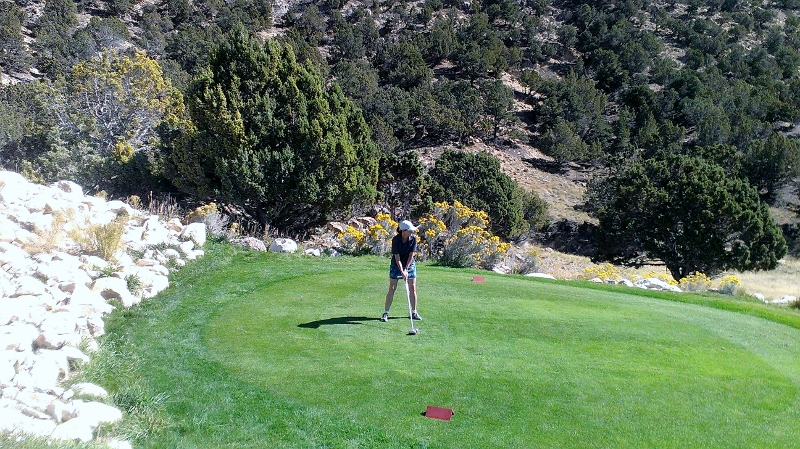 This course was playable but some quirky holes and all of the elevation changes made it a challenge. There was also as a disproportionate number of people that appeared to have never played the game before loudly chunking their way around the place. The views however were hard to beat.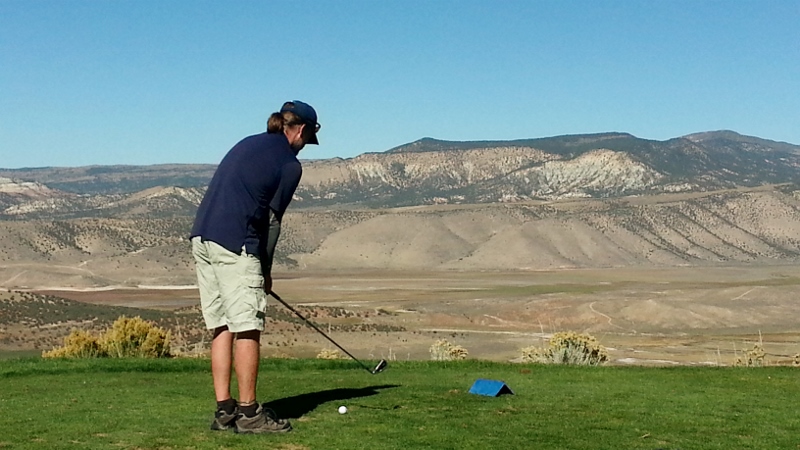 We walked the hilly front nine but decided to grab carts for what turned out to be an even hillier back nine. The par 3 below was 175 from the back tees and the green was about 12 paces front to back. Played three days and hit one short into the canyon and two well over onto the mountain. Oh well, maybe next year.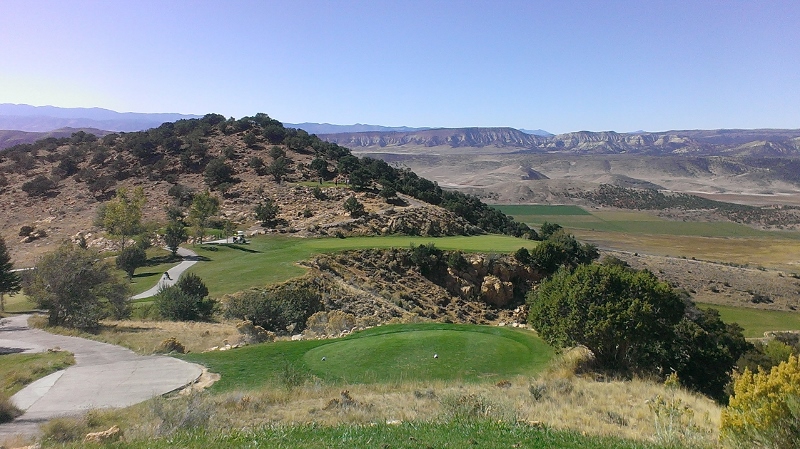 Played OK overall this day and carded what for me these days was a solid 86. I am enjoying travel golf much more now that I have come to fully accept the fact that I will always be at least five strokes over my home course handicap playing new courses on the road.
5:00pm: We played through some people and flew around the golf course and were home by 5pm. Although tired, it was back out for another walk for the dogs and even Omar who now demands daily leash walks too. Although for him it is more of a leash roll around in the dirt rather than a walk.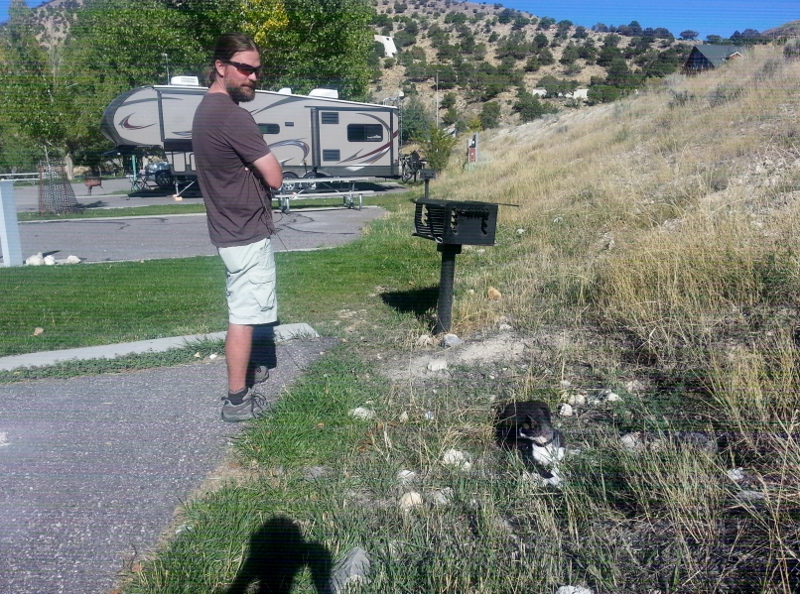 6:00pm: Although I heard it was good fishing, the lake was low and I hadn't seen anyone out there all week. After talking to the friendly British camp host couple we decided to head to a recommended spot on the other side of the lake to try our luck with some "happy hour fishing". Robin decided to walk the dogs over while I jumped on the  mountain bike in order to get a head start on the setting sun. I brought a couple of fishing Rods, some trout spoons, a cup of night crawlers I had gathered off the road after the previous nights rain storms and some cold IPA's.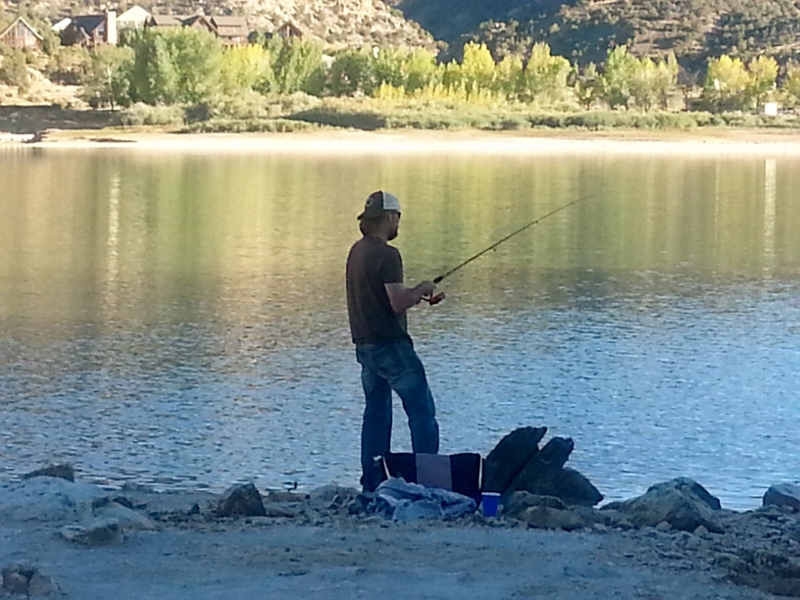 I casted various spoons and also bottom fished with the second pole using the night crawlers. Robin wasn't fishing but she joined me for a while with the dogs and we had a couple of beers. The sound of the lure hitting the water along with the excitement of a couple of fish that came off the line right by shore sent Hank into a complete primal frenzy. He wanted to jump in the water so bad he basically became uncontrollable. Robin walked the dogs home and I stayed a while longer and finally managed to get dinner on the shore.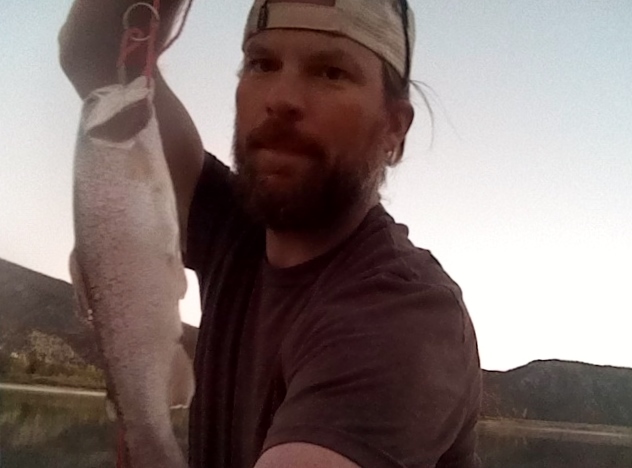 I also determined that a selfie is by far the best way to take a picture of a rather mediocre sized trout. This probably also explains why sexting is so popular these days.
7:30pm: Came back to camp with my trophy and found Robin had a nice fire going in the slightly overpriced ($10/day) rental fire pit and grill.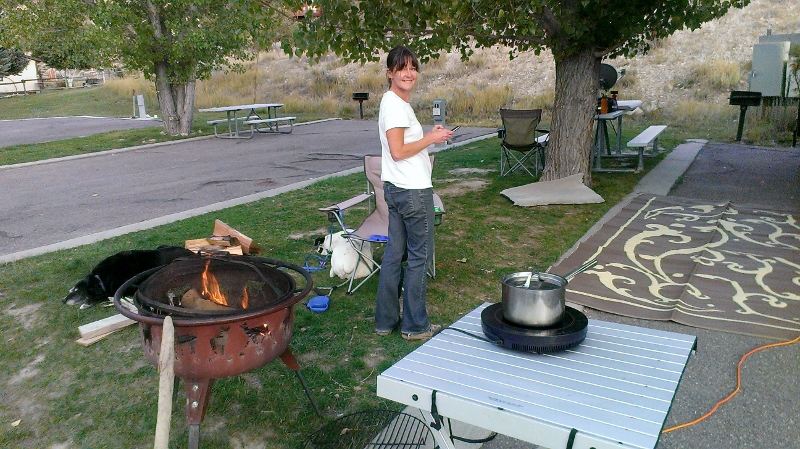 8:30pm: We cooked our dinner over an open flame, ate by the fire and then did some star gazing while our eye-lids got heavy as we chatted about our day in the life.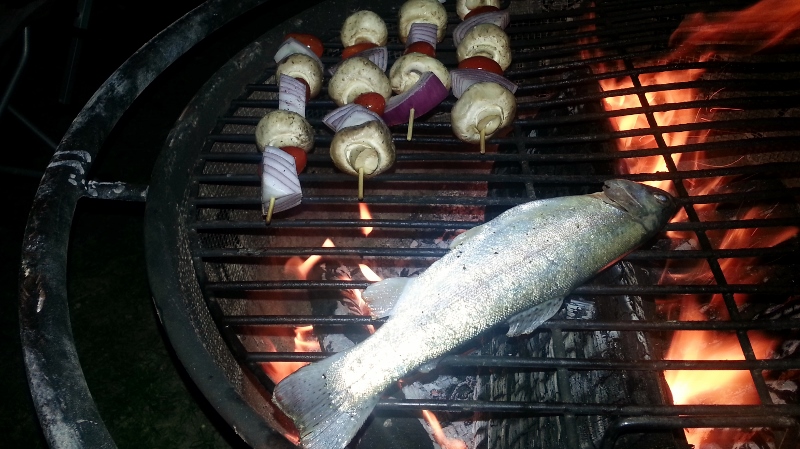 10:00pm: Went to bed tired, stinking and happy. At least on this day not just from beer and DirecTV.